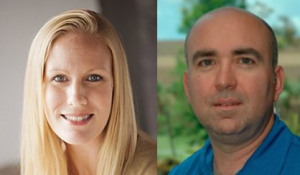 A great university is built by great faculty, which is why UCF focuses on excellence, especially when it comes to its professors.
Fourteen College of Sciences (COS) faculty members recently received the Teaching Incentive Program (TIP) Award, including Nicholson's Lindsay Hudock and Lance Speere.
TIP awards recognize teaching productivity and excellence. They reward employee contributions to the university's key goals of offering the best undergraduate education available in Florida and achieving international prominence in key programs of graduate study.
"We are so pleased to have two faculty members among those chosen to receive TIP awards this year," Robert Littlefield, who serves as director and professor of communication in NSCM, commented. "While this is a competitive award, faculty in the Nicholson School of Communication and Media often are selected as award recipients because of NSCM's commitment to ongoing faculty development. You should know that we also are proud of the five other faculty members who were considered for the award this year but were not chosen as recipients. Lindsay and Lance are at the top of the list, but in truth, all of our faculty make a difference in the lives of their students. I am proud of Lindsay and Lance, and all of the NSCM faculty."
Speere specializes in teaching digital and multimedia journalism, along with photojournalism and news reporting. His recent publications include articles in "Journalism and Mass Communication Quarterly," "Media History Monographs" and "Gastronomica: The Journal of Food and Culture."
Hudock is an instructor in advertising-public relations. Her course offerings include writing for public relations, introduction to public relations and public relations case studies. She is passionate about using her public relations training and skills to further the mission of worthwhile organizations in her community as well as aspiring PR professionals.
"It was an honor to win the award," said Speere, associate instructor and journalism program coordinator. "It is highly competitive, and a formidable application process, so it felt good to receive the recognition for my efforts in the classroom."
TIP awards, among others like the Excellence Awards and Research Incentive Program (RIA) Awards, are coordinated by Faculty Excellence.
"Our faculty work hard to provide the best education available in Florida," Vice Provost for Faculty Excellence, Jana L. Jasinski, Ph.D., stated. "The Teaching Incentive Program is one way to recognize their excellence and innovation inside and outside of the classroom. TIP recipients are selected by faculty committees who evaluate their contributions to both undergraduate and graduate education."
Faculty Excellence is committed to supporting and strengthening faculty through recruitment, development and retention of outstanding scholars and educators. Their 2020 goals include doubling national and international recognition of faculty excellence, growing their tenured and tenure-track faculty and also diversifying their faculty.
This article was written by Iulia Popescu.