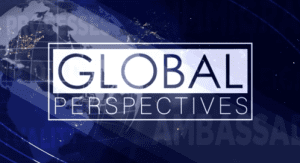 WUCF television show Global Perspectives was recognized and honored with a Telly award. Hosted by David Dumke, an experienced Middle East Specialist, and journalist, Katie Coronado, Global Perspectives takes a closer look into current event topics that are significant worldwide and have importance locally.
The Telly Awards honors excellence in video and television across all screens and is judged by leaders from video platforms, television, streaming networks, production companies and including Adobe, Netflix, Dow Jones, Duplass Brothers Productions, Complex Networks, Jennifer Garner, A&E Networks, Hearst Media, and Nickelodeon.
"Now, more than ever, it is necessary to celebrate video work that reflects the top tier of our industry, such as Global Perspectives," says Telly Awards Executive Director Sabrina Dridje. Katie Coronado also adds that "it is an honor to be recognized for our work. International stories and guests are at the center of this television show because we understand the importance of bringing these topics to our Central Florida community and beyond."
By Majdulina Hamed.
Published to Nicholson News on September 2nd, 2022.
If you have any news, accomplishments or highlights about your work or life, please be sure to share them with us, by emailing us at NicholsonNews@ucf.edu.