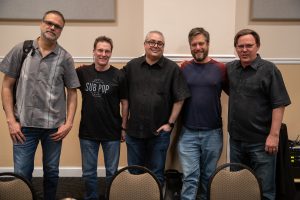 Robin Cowie, Michael Monello, Dan Myrick, Eduardo Sánchez and Ben Rock were once all aspiring film makers at UCF, who partnered up with one another to create one of the most iconic horror films ever made, "The Blair Witch Project."
Released on July 16, 1999, "The Blair Witch Project" put UCF's film program on the map by breaking multiple records. The low-budget horror film became Orlando's first produced feature to ever play Sundance, coined the iconic "found footage" horror movies and, to this day, is still the fifth highest-earning independent film of all time, having grossed around $250 million worldwide.
On April 15, the lucrative filmmakers all returned to the university 20 years after the historic film's release to offer advice and answer questions based on their experiences and what they have learned in their careers. Topics ranged from securing jobs to taking advantage of UCF's resources to raising money for films.
The panel discussion began with a career question: How can students get that first job, that big foot in the door, which is the hardest job to attain?
"Get a reel built up because ultimately when you get out of here that's what you're judged on — your work," said Myrick, who now lives in California and has just finished writing "Skyman," a UFO movie that is currently in the process of filming. "If you're an actor, they want to see you act. If you're a writer, you want to have a few scripts to hand out."
"It's very important to have a comradery with your fellow students. I know there's a competitive nature to it, but this is the most collaborative business in the world, so you're going to have to learn to work with a lot of different people," Sánchez added, who now resides in Maryland and has gone on to direct a multitude of horror TV shows and movies.
Students were also curious about how many ideas, scripts or projects the panel members have going at any given time. Does a diversity of projects really make a difference or should students stick to one genre?
"Ideally, you want to have several different kinds of scripts. In case someone says, 'We love your writing, but we've already got something like this, do you have anything else?'" Myrick stated. "It's good to pitch to your peers and if you get a response, then you know you've got a little spark to work with. Keep a running file with all your ideas."
Another question asked had to do with how to raise money — a huge obstacle in the path of beginning filmmakers. How can students find good investors, so they can get feature films made?
"When you're raising money from investors, you have to know what is making money," Cowie, who still lives in Orlando and has recently been working under Electronic Arts, said. "Show them these are the comparables that have already made money. You have to get into the shoes of the person who's investing in that project and understand why they would give you money or why they would trust you with that. Then, you build it one investment dollar at a time."
Students also wanted to know how the panel members' experiences at UCF helped them. How did their education prepare them for working in the industry?
Myrick replied, "I have very fond memories of those days. It was that family atmosphere and that comradery that was really beneficial. We worked on each other's projects, we supported each other, and that creative period of your life is one of the best you'll ever have because you probably have the most freedom creatively. Take advantage of it. Take those risks now. Make your mistakes now. The relationships you forge at UCF will probably carry on the rest of your career. I can say that firsthand."
"I know when I was young, there was a scarcity of access to gear. When we were finally here [at UCF], I was so excited to get my hands on cameras and equipment," Rock, who is now directing in the film hub of California, said. "But the real resource of the school was the people we met."
This article was written by Iulia Popescu.