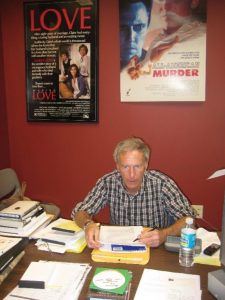 What began as an idea has turned into a new opportunity for Nicholson School of Communication and Media (NSCM) film students.
Associate professor Barry Sandler will be teaching the first LGBTQ+ film class at UCF in Spring 2021 called the history of LQBTQ images in American film.
The class will mainly showcase the progression of LGBTQ+ imagery in films throughout the years, and it will include a few of the films Sandler has had a hand in creating.
"I'm excited because I think the class is going to be illuminating and informative for people," Sandler said.
Sandler has written screenplays for numerous motion pictures, including "Crimes of Passion," "The Mirror Crack'd," "Evil Under the Sun," "The Duchess and the Dirtwater Fox," "The Other Side of Midnight," "Gable and Lombard," "All-American Murder," "The Loners," "The Valley," "Evil Never Dies," "The Kansas City Bomber," and the groundbreaking classic "Making Love," the first major studio film to present a positive portrayal of gay and lesbian men and women.
"It was only until fairly recently, 20-30 years, that LQBTQ+ people were presented in a positive way," said Sandler. "I know personally when I wrote the film 'Making Love,' one of the purposes I had for making it was because I had seen how gay films had projected these negative images of gay people, and I wanted to change that."
In "Making Love," main character Michael Ontkean meets a liberated writer played by Harry Hamlin, and has his first gay romance, which transforms the lives of the characters.
"I knew that by creating 'Making Love,' I would have to come out publicly and I wrestled with it for a long time but I'm glad I did it because the film had a real strong impact on people," said Sandler. "I received letters from people around the world, of how I helped give them a sense of pride and honor in who they were and helped them come out. That was the most gratifying experience as a writer – that my own work moved them to such a degree."
The New York native attended the University of California, Los Angeles (UCLA) where he received his bachelor's and master's.
He then moved from Los Angeles (LA) to Orlando in order to teach at UCF after being offered a tenured position in 2003, and he has been working at UCF ever since – although he still visits LA to work on films.
"My life's passion since I was a kid has been movies," Sandler said. "Having been involved in UCF's film program since 2003, I've seen how it has grown and how successful it has been in turning out successful graduates in the industry. Every time I go back to LA, I hear about students doing well. I receive as much gratification teaching as I do screenwriting."
Sandler wants to give credit to NSCM's senior associate director, Boyd Lindsley, Ed.D.  who offered the encouragement and incentive to make this class a reality.
"When you have the good fortune to work with someone as talented as Barry, all I – as an administrator and school leader – have to do is get out of the way and do my darndest to provide any support I/the school can offer," said Lindsley. "We're privileged to have Barry as a part of the school and UCF. As a fellow member of the LGBTQ+ community I can attest to the critical nature of representation – especially positive representation. Through his life's work, Barry has provided that for the millions of us in the community. His work has helped advance our community toward equality and not only am I thankful to him for that, but we as a community are indebted to him for his work."
The class is still accepting students. If interested, search for the class FIL 4830 through the myUCF portal.
Published December 1, 2020 for Nicholson News by Iulia Popescu.
If you have any news, accomplishments or highlights about your work or life, please be sure to share them with us, by emailing us at nicholsonews@ucf.edu.