Students from the Nicholson School of Communication and Media come from all corners of the world. In an interview, two doctoral students discuss why they chose the Strategic Communication PhD program at UCF and their own unique journeys to be here.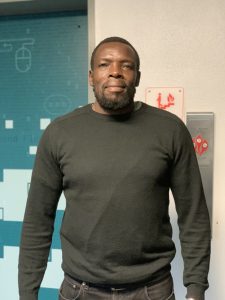 Walter Washika, PhD Student
"I am Walter Washika, a Kenyan national, a husband, and a father of three lovely girls. I am a devout individual who follows God's will. I believe that my decision to pursue a Ph.D. in Florida is divinely ordained. 
My motivation to pursue a Ph.D. 
My aspiration to obtain a Ph.D. was inspired by a childhood dream. I vividly remember an incident over 30 years ago when I was in primary school. It was a Saturday afternoon when my teacher of English, Mr. Godwin Olwenyi, who lived more than 10 miles away from our home, paid us a visit. At that time, I had just finished tending to my father's flock and returned home. I was thrilled to see Mr. Olwenyi, and during our conversation, he asked me a significant question, "What do you want to be when you grow up?" I responded, "A communicator." Mr. Olwenyi, who was quite tall, stooped down and touched my shoulder. In a gentle voice, he said, "You can achieve it. Just be resilient and work hard." 
I can confidently say that I have diligently pursued this goal for the past three decades or so. After completing primary school, I joined secondary school. However, I couldn't immediately proceed to university due to my grades. I had to repeat senior four. Consequently, I had to enroll in a pre-candidate class, which meant an additional two years before I could graduate. Even after completing this stage, I couldn't afford to attend university due to a lack of funds. I spent over three years at home, taking care of my father's flock. 
Eventually, my father managed to save enough money to send me to Uganda, a neighboring country, where I enrolled in a Bachelor of Arts program in Mass Communication at Uganda Christian University. I graduated in 2007 with second-class upper honors. Subsequently, in 2012, I pursued a Master of Business Administration. After completing my studies, I continued working as an administrator and later became the head of the communication and marketing department at the same university. It was during this time that I decided to pursue a Master of Strategic Communication in 2019. 
After graduating in 2022, I was given the opportunity to participate in an exchange program at NLA University College in Norway, where I pursued a Master of Global Journalism. Additionally, earlier in the same year, I enrolled in a Master of Digital Journalism program at Aga Khan University in Kenya. 
My biggest motivation has been my wife and our three daughters. Despite holding a master's degree in business administration and having over a dozen years of work experience, my wife is not currently employed. Yet, she encouraged me to move to Florida to pursue a 4-year Ph.D. This decision was driven by love, and only a virtuous, forward-thinking woman would dare to make such a sacrifice, considering that my stipend is our sole source of income. Leaving my family for studies is an act of love, not abandonment. To demonstrate to my daughters that "anything is possible," I strive to lead by example."
Why did I choose UCF? 
"I first learned about UCF from my academic mentor, Dr. Angela Napakol, who also served as the Head of Graduate Programs at the School of Journalism Media and Communication at Uganda Christian University (UCU). During our conversations, Dr. Napakol mentioned the involvement of three University of Central Florida professors who played a crucial role in developing the Master of Strategic Communication program in which I had enrolled. She also informed me about the March annual Crisis and Risk Communication seminar and the Ph.D. in Strategic Communication offered at UCF. 
Furthermore, she spoke about a health communication professor from UCF, Professor Ann Miller, who had visited and stayed at UCU as a Fulbright scholar in previous years. In February 2019, Dr. Timothy Sellnow, Dr. Deanna Sellnow, and Dr. Ann Miller visited Uganda and shared their knowledge in the fields of Risk and Crisis Communication and Health Communication during their stay. Additionally, Prof. Deanna Sellnow supervised me during my thesis writing, and her dedication and support helped me graduate on time. Their teaching styles and research expertise in the areas of 
risk and crisis communication and health communication influenced my research interests and desire to become a communication researcher and academic. 
I must admit that my motivation for this program was fueled by UCF's distinguished faculty profile. This gave me confidence that I would receive excellent training in a field I am passionate about." 
What are your favorite things about the program? And are there any challenges that you have come across along the way? 
"One key aspect of the program is the faculty's willingness to go the extra mile in creating the best learning environment and providing customized support to learners. The instructors' feedback on assignments is nuanced and constructive, highlighting their dedication to their job. Additionally, the program's efficiency in communication and willingness to listen and support the learning process, along with the availability of office hours, contribute to a well-organized and supportive environment. The use of various teaching methods such as discussion sessions, expert presentations, readings, assignments, discussion boards, guest lectures, and class projects has greatly enriched my learning experience. 
I have also received invaluable peer support from second and third-year students, who have been pillars of assistance during times when I felt stuck. The "UCF cares" mentality is more than just words; it is truly lived and practiced. 
The biggest challenge I faced was finding housing. Fortunately, a faculty member provided temporary accommodation when I first arrived in Florida. However, finding a place to stay for the duration of my Ph.D. studies proved to be a nightmare. Most of the available options were overpriced, despite their proximity to campus. Many applications were denied due to my lack of a credit score, which was incredibly frustrating and anxiety-inducing. I considered taking a train, but the cost and time constraints made it impractical. One day, after praying and entrusting the matter to the Lord, I finally found a place to stay 4.8 miles away from the UCF Main campus. I enjoy riding my bicycle to and from school, the worst days are when there is thunder and rain and when it is extremely hot. 
Another challenge was understanding how the system worked and ensuring that I fulfilled my obligations as a Ph.D. student and as a GTA. Additionally, being away from my three young girls has been difficult, and it initially stretched me thin. However, I have accepted the situation and remained focused in order to provide a clear account of why I stayed away for four years. Giving up has never crossed my mind."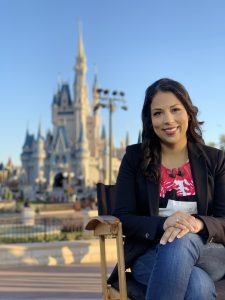 Desiree Milagros Martina Flores Molina, PhD Student
What sparked your interest in pursuing your PhD?  
"My family has an unwavering commitment to education and a PhD being the highest academic degree one could possibly attain, I figured I had to find a way to earn one, even if that meant leaving my home country to do so. I am only following the footsteps of my father who also did the same thing in the late 70s (he has a PhD in Education from the University of Pittsburgh) and my brother and role model, who has a PhD in Engineering from FIU. We all came to the U.S. to pursue our academic goals."  
Why did you choose UCF?  
"I found UCF's  Strategic Communication PhD program attractive, the balanced coursework and professors with diverse background looked enticing. The location is perfect, my family has been visiting from Peru for over four decades so I was not new to Orlando. I figured that I wouldn't get as homesick if my family came to visit regularly and I have not been wrong, they can use me as an excuse when in reality they are here to hit the theme parks!  
I love choice and the various tracks the program offered provided exactly that. I have been able to take some elective courses in other schools, which has been amazing. How did you hear about it? I looked online, contacted a few people who had come to UCF for their graduate studies and confirmed this was the best place to pursue this degree." 
What are your favorite things about the program? And are there any challenges that you have come across along the way? 
"I have faced some health issues, apparently all triggered by COVID. It was unfortunate that I got very sick with it soon after I arrived in Orlando so I had a pretty rocky start, however, the support of my professors and Department I have been improving little by little. I am so thankful for their compassion and continued support. (and anything else you would like to add). Pursuing this dream is not easy and one may face several challenges, but the silver lining is that you get to push your boundaries and learn you are capable of so much more you initially thought you would and you also get to see your professors are not just amazing at what they do but you get to see their more human side and that is priceless."

By Majdulina Hamed.
Published to Nicholson News on November 2nd, 2023.
If you have any news, accomplishments or highlights about your work or life, please be sure to share them with us, by emailing us at NicholsonNews@ucf.edu.