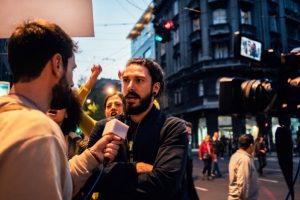 For journalists, the past couple of months have been tough, but important.
When Desiree Montilla was a UCF student, she would never have guessed what she would be covering within the first three years of her career in TV news.
Montilla is a multimedia journalist in Charlottesville, Virginia and covered the 2017 confrontation between white supremacists and counter-protesters in response to the murder of George Floyd.
The first of many recent protests in Charlottesville started May 29 near the University of Virginia. People lined the sidewalks around UVA Hospital holding signs to support justice for Floyd.
In each person, Montilla saw sadness. She saw anger. She saw fear. Most importantly, she saw their mission for justice.
The bigger protest was scheduled for May 30. As a reporter, Montilla felt anxiety about the result of the protest. Watching some of the other marches turn violent across the country — where some reporters were injured — she felt nervous. She could not help but plan for every scenario.
"When I received the call from another reporter to meet him downtown, my stomach dropped," Montilla said. "I rushed to my car and went to the Charlottesville Police Department, where most of the protesters were meeting."
Montilla noticed hundreds of cars with their flashers on and signs heading toward the police department when she arrived. She quickly found a safe place to park and discovered the cars were part of the protest, peacefully demonstrating with signs out their windows to practice social distancing.
The protest started at 3 p.m. As she walked towards the police department, she started hearing chants echo through the street. She looked up and saw hundreds of people marching down Market Street toward the Sprint Pavilion. She then ran toward the crowd with her camera, tripod and backpack to capture the scene as it was unfolding.
Not knowing what possible dangers to expect in a time when journalists have sometimes become targets, she was feeling more empowered to use the lessons she learned from school to share the community's truth.
Hundreds of people filled the Downtown Mall in Charlottesville, holding signs and chanting: "Black Lives Matter."
The protests went through the downtown area as protesters would stop at different locations to do speeches and prayers. The march continued for a mile, until it reached the city's Washington Park. People took turns speaking their truths, their experiences and their hopes for the future.
The next day, there was a rally organized by the Albemarle High School Black Student Union. More than 100 people lined the sidewalk holding signs and chanting. The organizer said she simply wanted people to listen and take the protesters' messages into account.
"This experience has shown me more about the importance of journalism, telling stories, and recording history as it unfolds," said Montilla. "I welcomed the opportunity and challenge to cover the Charlottesville community, not only in response to the recent national turmoil, but every day."
At the same time, she feels like the jobs of journalists have become a target for some in the community. She often hears statements concerning "the media" and the poor coverage of events.
"That hurts because I know from my own experience that I and many other journalists work diligently to get the facts and report what's accurate," said Montilla. "That's the job I aim to achieve every time I walk in the newsroom."
Covering these recent stories also has opened Montilla's eyes to the hurt that people are still experiencing in the community.
"These moments have changed me, both as a reporter and human," Montilla said. "I'm more aware of the suffering our community is experiencing and their demand for change. Every day isn't easy, but it's worth it in the end."
A key lesson Montilla learned from her classes with Erica Rodriguez Kight, Ph.D., a lecturer in the Nicholson School, is to focus the story on a human element and the rest will fall into place. Little did Montilla know this lesson would make a big impact on her starting out in Charlottesville and during the protests.
"No matter how many negative comments I might get about 'the media,' I know I have succeeded whenever I'm able to tell a person's story," said Montilla. "Because in every person, I can see why they are marching and the desire they have to make change happen. Every step is taken with a purpose."
She is grateful to be in a career where she can continue to tell these stories and share these messages on a wider platform.
This article was originally posted to UCF Today. Desiree Montilla is a 2017 UCF graduate with a bachelor's degree in radio-TV and a minor in Latin American studies. She is now a reporter covering the news in Charlottesville, Virginia, for CBS19 News.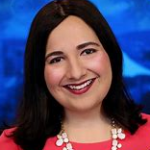 Published for Nicholson News on September 1, 2020 by Iulia Popescu.
If you have any news, accomplishments or highlights about your work or life, please be sure to share them with us, by emailing us at nicholsonews@ucf.edu.