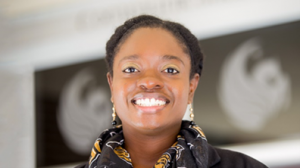 Michelle Obama once said, "You may live in the world as it is, but you can still work to create the world as it should be." An example of someone who exemplifies this ambition is Shameika Daye, the Coordinator of Academic Programs at the Nicholson School of Communication and Media. Daye recently returned from a year-long professional development leave; an enriching time dedicated to gaining practical experience in her academic field. In an interview with the two-time (almost three-time) alumna from UCF, Daye describes her inspirations, goals, experiences and challenges she encountered during her professional development leave.
When asked about what motivated her to take a professional development leave, Daye reveals that she found out from a friend what a professional leave was. At first, she wasn't sure if her application would be accepted but after meeting with Boyd Lindsley, Senior Associate Director for the Nicholson School, she knew it was what she wanted to do. "Having that level of support and feedback from someone who had already gone through the process and was a colleague that was willing to help champion me throughout the process was a great resource." She goes on to say that her goals when she first started her professional leave included reaching doctoral candidacy. More specifically, she wanted to complete her comprehensive exams, defend her dissertation proposal, and complete her IRB application for research as well as get most of her interviews completed for her qualitative data collection during her professional leave.
Daye went into detail about her impressive resume that highlights her interests and involvement during her professional leave, which includes "securing funding through the Amplifying Knight Voices Grant, serving as the Mid-South Sociological Association (MSSA) Outreach Sub-Committee Chair for the Racial and Ethnic Minorities Caucus, [serving] as a Graduate Student Ambassador for the Uniquely UCF Sociological Graduate Excellence Advisory Board and [being] elected to the American Sociological Association's (ASA) Student Forum Advisory Board for a two-year term."
Daye mentions that George Floyd's story had significant influence on the Amplifying Knight Voices Grant, which was created for historically marginalized communities in order to help with the socioeconomic imbalances. The goal of the AKVG is to "support the next generation of scholars working toward creating a more equitable, inclusive, anti-racist and just society and/or academy."  For instance, Daye looked at the work of Black women in various industries and was inspired to create change. "In the beginning of my journey and throughout my college career I was focused on the wage gap between Black women and other women in the workplace and Black women compared to men in the workplace as well. I have also looked at the leadership gap between the representation of Black women in leadership positions in organizations with decision power. These two are correlated to me." Daye also recalls what she has observed such as "very specific challenges that Black women face when it comes to workplace mobility and that even when they reach [higher] positions, they face isolation and varying forms of what Moya Bailey calls "misogynoir" in the workplace.
With MSSA, Daye started out as a presenter and had the opportunity to meet other scholars who welcomed her with open arms and encouraged her to get involved in the organization. She helped with outreach to schools that do not receive funding in order to bring equity to these communities. More specifically, with MSSA, they would reach out to HBCUs as well as ethnically marginalized institutions and created scholarships that would benefit students and faculty. This would help bridge the gap in funding the schools need to provide a higher level of education throughout their communities.
The American Sociological Association Student Advisory Board, which is an elected position for the organization, was also important because the board speaks for students and brings in nontraditional student voices. Daye also recognizes that being part of the Uniquely UCF Sociology Excellence Board was supportive community to be a part of, she elaborates on ways she contributed to the Excellence Board. "The first board was foundational," Daye states, "it opened the forum for students to update the curriculum." This was beneficial for students and has created an excellent opportunity for students to have a hands-on approach to how they want their curriculum to look like. This also "created more peer mentorship opportunities, however, the sense of community during COVID was hard to develop," Daye explains. But this did not get in the way of the overall experience, as this was a unique experience for current and incoming students to assist with the excellency board.
When reminiscing about her time during her professional development leave, Daye said that learned a lot about herself. "I'm introverted but community is a must. PhDs can be lonely, but you need to be intentional about [networking] – you can use resources available to you and create a network." Networking and finding a community gave her the support she needed especially when it came to her introversion. Daye further reflects that her chair once said, "perfectionism does not serve me well" and has indicated that the quote has resonated with her because research can be never-ending and sometimes it is okay to not be perfect all the time. Although it can be challenging meeting the goal of being perfect, Daye realized that a work-life balance was more important. She stresses this point by saying that with working full time and going to school, she felt the need to fill any free time she could. Daye decided that she had to be intentional about having a balanced lifestyle that was beneficial to her mind, body, and spirit. "It's a good time to see what I need and reach out to the community."
When asked about what Daye enjoyed most about her professional leave, Daye remarked that she enjoyed the "opportunity to engage in being a scholar." While Daye is split as an administrator and a scholar, she relishes in engaging in her work and considers it fun, rewarding and "remind[s] me of my why." Purpose in one's work is important to consider, and Daye is no exception; in fact, working for her own goal is imperative. Although being a doctoral student can be lonely at times, remembering your purpose, and working towards something bigger than yourself helps considerably.
The impact that Daye wants to leave behind includes an intergenerational goal of "seeing more Black women in leadership." As a Black woman in the workplace, she does not want to question herself or wonder why she is where she is. In fact, Daye envisions a time where there will no longer be "firsts" of Black women, instead, if her great grand niece wanted to be an astronaut, there may be several who have already left a legacy behind so that she may follow in the footsteps of greatness.
Knowing what she knows now, Daye says that she would have better time management skills and more self-care. After all, "society values work," but we truly need to "take rest and respite" in order to reap the benefits of what we have earned while working. And finally, when asked if she has any advice for anyone who is interested in doing a professional development leave, Daye stated, "do it! Don't think that this is not for you." This professional leave really helped develop Daye as a person and it is important to consider that you "do it for you." Once you receive the opportunity to do a professional leave, "find a workplace that supports you as a person. After all, you've earned it."
This article was written by Majdulina Hamed.
Published to Nicholson News on July 5th, 2022.
If you have any news, accomplishments or highlights about your work or life, please be sure to share them with us, by emailing us at nicholsonews@ucf.edu.