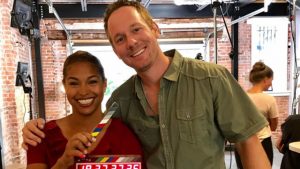 UCF radio and TV alum Brian Kleinschmidt '04 and his wife Mika McGee-Kleinschmidt had to start from the ground up when the recession hit. Kleinschmidt had previously been buying and flipping houses but lost everything during the economic decline.
Kleinschmidt's passion for real estate never waned though, and soon he was back working with several builders to create dream homes for clients, partnering up with his wife who sold those homes.
As consistent HGTV viewers, the pair realized the potential of their real-life work as a television show. They dreamed up the concept of one called "90 Day Dream Home."
Their first pitch of the show was initially rejected, but they wouldn't take no for an answer. They went back to the drawing board and came up with a second pitch, which would go on to be widely successful.
Produced by the same company as "Impractical Jokers" and "Say Yes to the Dress," the first episode of "90 Day Dream Home" aired nationwide on April 27 at 10 p.m.
The husband-and-wife duo are now proudly showing off what Tampa Bay has to offer.
"This is the first HGTV show in Florida, and we're so excited about putting Tampa on the map in our national broadcast," McGee-Kleinschmidt, who received her Bachelor of Communication from the University of South Florida in 2007, said in an article here. "All of the homes on the show will be built in the Tampa Bay area."
In the show, McGee-Kleinschmidt, who is a realtor with Imperio Real Estate, brings the clients on house tours. Then, her husband, who is a developer, takes all the elements that the clients like from those houses and begins building their dream home with a strict deadline of 90 days or less.
"We felt we could offer a niche that hasn't already been publicized on the big screen," McGee-Kleinschmidt said in a previous article. "The industry is saturated with shows about flipping and rehabbing, but nothing from building from the ground up."
To view a trailer of the couple's new show, click here.
"He and Mika are the perfect team," Ellen Kleinschmidt, Brian's mother, said. "They're both dreamers and doers. They put their time and talents, their hearts and souls in everything they set out to do, and '90 Day Dream Home' is no exception."
Check local listings to see what channel the show is on.
This article was written by Iulia Popescu.