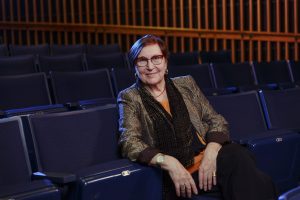 UCF Professor Ula Stoeckl has been making films for more than 40 years, and recently had them screened at the Berlin Film Festival.
"You never know what someone will remember," she says in a quiet and distinct German accent. She just returned to the UCF campus from a month-long celebration of her filmmaking career in Europe from Munich and Berlin, Germany, to Vienna, Austria. While some of her films received awards, recognition for her whole body of work had been long overdue, as can be deduced from a casual conversation with the UCF film professor.
Listen to Stoeckl. The woman who recently celebrated her 80th birthday has much to share, but only if you ask. And if you consume what she is saying with all of your senses, as if experiencing one of her films, you are transported into her shoes literally walking through fire as a child and then blazing new paths for women.
Read more about Ula Stoeckl's story on UCF Today.