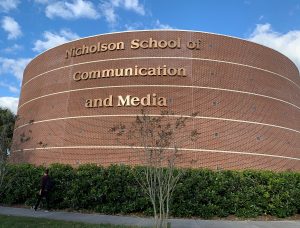 After consulting with school's faculty, the deans and director and the president, Interim Provost Johnson recently made the decision that the Nicholson School of Communication and Media (NSCM) will no longer be an 'intercollege school.'
In 2018, the new Nicholson School was established (and renamed the Nicholson School of Communication and Media); with this name, came additional programs and a new reporting structure for the school.
The effort was pursued to create an innovative and atypical 'intercollege school,' where the school was administratively housed in the College of Arts and Humanities (CAH) as well as the College of Sciences. However, due to the complexities and unsustainability of staff workloads associated with reporting to two colleges, it was decided to move NSCM – in its entirety – to the College of Sciences, effective July 1, 2020.
The school will work to ensure strong and important ties with CAH. The Text & Technology program and Themed Experience, to name only two, will remain strong and continue to develop.
Director Robert S. Littlefield, Ph.D., spoke about the changes and his hopes in one of his recent updates.
"Although the fiscal decision was made to not allow the Nicholson School to advance to college status, the move to COS is a positive one. My focus now is to move forward in a way that will be in the best interests of the faculty and staff who will now be part of operationalizing this action," Littlefield said. "As Director, you can count on me to strive to achieve the best results possible for the Nicholson School, as we address the challenges and embrace the opportunities that lie ahead."
Published June 1, 2020. Written by Iulia Popescu.
If you have any news, accomplishments or highlights about your work or life, please be sure to share them with us, by emailing us at nicholsonews@ucf.edu.