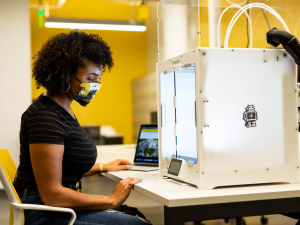 Soon after the Nicholson School of Communication and Media opened a new 3,500-square-foot Games and Interactive Media Maker Space last fall, the COVID-19 pandemic hit and forced the closure of the lab on the UCF Downtown campus.
But after a redesign of the floor plan for the laser cutter, 3D printer, recording studio, AR/VR equipment and other instruments, the Maker Space has opened again with a maximum of 16 people at a time allowed to use the facility.
"I had a few graduate students working on awesome projects that had to be stopped in the middle of their development due to [COVID-19]," said Jordan Lipscomb, who manages the space and is an adjunct faculty for front-end web design.
To reopen the lab for students, Lipscomb and leadership from NSCM took steps to convert the lab into a Tier 5 research space – a designation that recognizes the research activities cannot be performed remotely.
"It took most of the summer to get all the guidelines in place and approvals," said Lipscomb.
The lab was built for students in UCF's top-ranked digital media undergraduate program and master's program to experiment and create games, web designs and interdisciplinary projects with other departments and colleges.
"The space allows students to work effectively on audio aspects of their games and 3D print prototypes for game design, develop for augmented and virtual reality, and promote interdisciplinary collaboration," Lipscomb said.
While the Maker Space was built to serve up to 1,000 students each semester, Lipscomb is happy to have it open and serving students — even if at a smaller rate.
"It is important for students to have the option of utilizing the Maker Space, as it is a vital resource for them and faculty to enhance their learning objectives with the necessary equipment," Lipscomb said. "During this time of social distancing, while face-to-face group collaborations are prohibited, collaboration can still occur with the proper online collaboration tools."
In addition to the Maker Space lab, the renovation of the Communication and Media Building also added four computer labs with powerful game development workstations. The building already featured Studio 500, one of the largest motion capture studios and soundstages on the east coast, which allows students to practice their skills using the same equipment used in professional workplaces.
Originally published on UCF Today by Jamie Giller.
Published November 1, 2020 on Nicholson News.
If you have any news, accomplishments or highlights about your work or life, please be sure to share them with us, by emailing us at nicholsonews@ucf.edu.