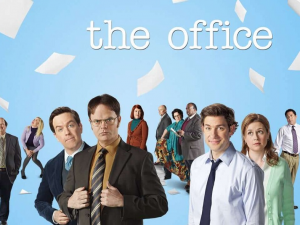 Nicholson assistant professor Michael Strawser, Ph.D. reasons that successful professional communication is as much about what not to say, as it about what to say. It's critical in successful negotiations and even in how to respond to thorny emails.
A great teacher of gaffes and miscues is the "world's greatest boss," Michael Scott – of NBC's hit series "The Office."
"This show brings to light a lot of traditional work-place conflicts and scenarios from a comedic perspective," said Strawser, who is using the show as inspiration.
Beginning spring 2021, he's also including content from the show in the course he's teaching, entitled "Business and Professional Communications," (COM 4110).
"I hope that by using an entertaining means of teaching that students will be more engaged in the course and in turn, more eager to learn," said Strawser.
Scott and the other characters at fictional paper company "Dunder Mifflin" are what Strawser points to as his inspiration behind the creation of the content of his course.
"This is my favorite TV show because I find it to be so relatable," said Strawser. "There is so much we can learn from say, Michael Scott's leadership style or Dwight Schrute's followership. There is more to dissect here than you'd think."
The course is organized into modules that will use episodes to exemplify scenarios and tasks students may encounter in the workforce. The class has a 30-seat capacity and is offered through an online modality.
"We are living in a trying time, and I want this course to be as accessible as possible," Strawser said. "I also want it to be as light as possible and inspire students to have fun with their coursework and to remember that education doesn't have to be a stressful experience."
Published October 1, 2020. Originally written by Jordan McGrew. Edits added by Iulia Popescu. Picture taken from NBC Universal Image.
If you have any news, accomplishments or highlights about your work or life, please be sure to share them with us, by emailing us at nicholsonews@ucf.edu.