The Suncoast Chapter of the National Academy of Television Arts & Sciences is a nonprofit Florida corporation dedicated to excellence in television. Also the same organization that gives out the regional Emmy awards, the Suncoast Chapter includes the Student Production Awards (SPA). Two UCF Film students received this honor in the non-fiction long-form category. Congratulations to Corey Marr, Film BFA graduate, who won for his documentary Liminal Times, advised by Assistant Professor, Betsy Kalin. And congratulations to Hope Miller, Film BFA junior and Honors student, who won for editing the newest Honors documentary, Jewel of Parramore: The Wellsbuilt Museum, advised by Dr. Lisa Mills, Professor and Assistant Director of Film and Mass Media and Dr. Robert Cassanello, Associate Professor of History.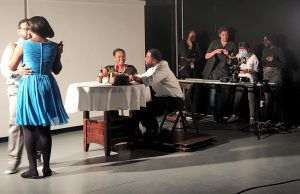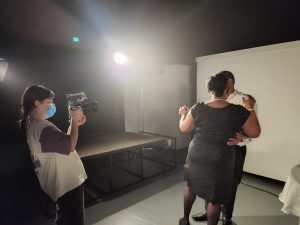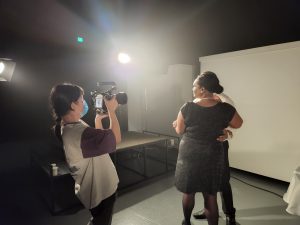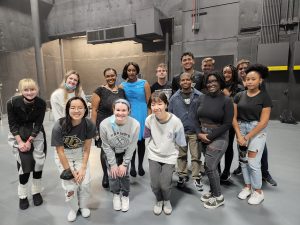 Here are a few behind the scenes shots from the WellsBuilt project. In the group shot, Hope Miller is on the far left with blonde hair wearing the black top.  The other photos are Behind-the-Scenes shots of when we were shooting the film.  The woman holding the camera is UCF Feature Film MFA graduate Clio Yang.  She was the Director of Photography on the film.
"I'm so proud to have worked on the Wells Built Documentary alongside the Documentary Production class of Spring 2022, and getting recognition for our work has made the experience that much sweeter. As one of the main editors for the project I can say that this film is the product of hard work and love, giving a clear and compelling history of the Parramore community, and I can't wait to see where we all go next," Miller said.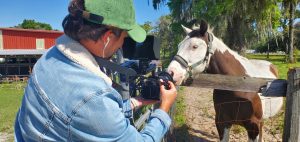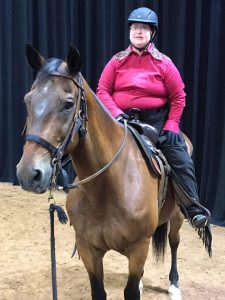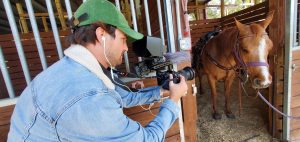 Here are some photos of Corey Marr shooting Connections.  The girl on the horse is Becky Richter, the subject of Connections.
The film is about the interaction between Special Olympics Athletes and Lions Clubs Volunteers.  It was produced with support from a grant provided by Lions District 35.  Dr. Lisa Mills was a co-director on this project.
Both of Corey's films are now screening in film festivals across the country.
Congratulations to our film students!
By Majdulina Hamed.
Published to Nicholson News on July 7th 2023.
If you have any news, accomplishments or highlights about your work or life, please be sure to share them with us, by emailing us at NicholsonNews@ucf.edu.