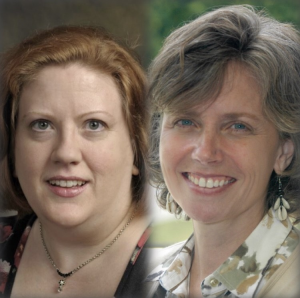 Ann Miller, Ph.D., and Natalie Underberg-Goode, Ph.D., are the latest NSCM researchers to be inducted into the Scroll & Quill Society.
This newer society is based on two older faculty clubs. Established in the 1980s, the original clubs represented the quill, which recognized authored books, and the scroll, which recognized sustained peer reviewed publications.
The Scroll & Quill Society now recognizes UCF faculty who have made scholarly contributions over a period of at least 10 years at UCF, and who have brought positive national or international attention to the institution through their scholarly work.
Miller has actively taught, researched and served in the field of communication for more than 25 years. She is currently serving as interim director of the Karen L. Smith Faculty Center for Teaching and Learning. During the 11 years that she has been at UCF, she has produced 46 peer reviewed publications so far, and is consistently publishing above the average rate in the communication field.
"Another distinction is perhaps that I'm among the few American researchers in the field of communication who publish about communication in sub-Saharan Africa," Miller said.
Miller's research has focused primarily on global health communication with at risk populations in Africa. Her topics of interest typically include intercultural communication, health communication and instructional communication.
"I became interested in intercultural communication because I was living it," Miller said. "I obtained my master's degree at a Kenyan institution, living and working as an American in Kenya for 13 years. I then became interested in studying health communication because of the HIV epidemic in sub-Saharan Africa. Many of my colleagues and friends in Nairobi had relatives who died of HIV, often without telling their relatives that they were infected until just weeks before their deaths. I did my doctoral dissertation on what factors led to decisions of Kenyans to disclose their diagnosis to people close to them. That was the beginning of my research in the field of health communication."
All of Miller's previous health communication research was centered in Kenya or Uganda, but this year, she has begun to do research on health literacy in the United States, as well.
Underberg-Goode was also inducted into the Scroll & Quill Society. She is an interim assistant director and associate professor of digital media and folklore in the Nicholson School's Department of Games and Interactive Media. Her research examines the use of digital media to preserve and disseminate folklore and cultural heritage, with a focus on digital storytelling and participatory new media design and practice.
"I've always been interested in cultural heritage, in part because of the traditions and stories in my own family," Underberg-Goode said. "My grandmother was Slovak, and from an early age she shared family stories with me, some more historical, others more supernatural. When I moved from the Midwest to southern California as a child, I loved learning about and experiencing Mexican and Mexican-American traditions such as Día de los Muertos and realized that cultural heritage was something I wanted to learn more about in college. Later would come graduate school, and I continued learning about folklore, eventually focusing on narrative and Latin American culture."
The work that Underberg-Goode has done has helped preserve folklore and histories among many groups in the U.S. and abroad, including Puerto Ricans in Central Florida and Peruvians in South America.
"Incorporating digital media with cultural heritage provides new tools for preserving, interpreting and representing traditional culture and art," Underberg-Goode said. "For example, the Portal to Peru project allows a folklorist like me to work with a non-profit in Cusco, Peru (the Center for Traditional Textiles in Cusco, or CTTC), to present and interpret Andean weaving and the lives and experiences of the weavers who create and sell this important example of intangible cultural heritage."
The site Portal to Peru presents more than 700 items from the CTTC's permanent collection of textiles, exhibitions focusing on weaving types, techniques, process and designs from the CTTC's photographic archives and a GIS-based community tour of the ten communities with whom the CTTC works.
Additionally, the site also features three digital stories and interactive visual novels based on the experiences and knowledge of the women who work with this important non-profit in order to help the visitor understand the historical, cultural and economic context in which this cultural heritage is created and shared. Portal to Peru was funded by a Department of Education grant received by Latin American Studies program.
To view other Fall 2019 inductees and previous ones over the years, check out this page.
Published December 1, 2019. Written by Iulia Popescu.
If you have any news, accomplishments or highlights about your work or life, please be sure to share them with us, by emailing us at nicholsonews@ucf.edu.