UCF Alumni, Tyler Falbo and Omar Young from the Nicholson School of Communication and Media, are achieving their dreams. In an interview with them, Falbo and Young describe their journey, projects, and advice they give to aspiring filmmakers.
Tyler Falbo, created Immoral Compass, starring Bill Burr (developed for Roku), was nominated for an Emmy for Outstanding Actor.

Please discuss your journey since you've graduated from UCF. What inspired you to take this route in your life?
Immediately after graduation I moved to Atlanta and started working as a PA on sets. The goal was always to write and direct, so it was really helpful to have a job where I could see how real sets and production works. I eventually joined the union as a rigging electrician to make more money, but I was making shorts in my free time throughout (with UCF film grads like Cornelius O'Donoghue, Mike Collins, Lacie Collins, and Hayden Greiwe). I shot a feature, Postal, in 2016 in my parents house with my friends for basically no money. In 2017 a few of my YouTube shorts got attention online, leading to me getting management in LA and moving out there. I made some shorts for the show Cake on FX and then eventually made Immoral Compass. I guess the inspiration to take this route in life was always movies. I've always wanted to make them, and my path hasn't been exactly that, but it's still the goal.
How did you come up with the idea for Immoral Compass?
After college, and even during, I was always drawn to making comedy shorts that dealt with morally ambiguous situations and the protagonist always doing something f***ed up to get what they want. I never really tried to do that, the shorts just always ended up that way for some reason. In 2017, my YouTube channel started getting attention and I met with a few companies in LA and simply pitched a whole show of these shorts, luckily my entire channel was already thematically cohesive. Irwin entertainment liked the idea and sent out my one page on the project, and Bill Burr was interested. When Quibi bought the idea (long story there), they wanted Bill to be in every episode, so we came up with the device of him breaking the fourth wall between sketches to strengthen the themes.
Can you tell us about your upcoming projects?
Not really. I've got a half hour pilot I'm working on and a handful of feature projects in development, but nothing concrete enough to share. Right now my day job is a creative director at the media company Almost Friday, most well known for the Instagram account Friday.Beers.
Do you have any advice for young filmmakers?
I feel like I've heard this advice a million times, but it's true. If you want to be a filmmaker, just keep doing it constantly. Watch a ton of movies and make a ton of films, it's the only way I got better. I used to get hung up on production value and being able to tell a story exactly how I imagined it, but that just isn't possible when you're starting out. Just start doing it with the resources you have available.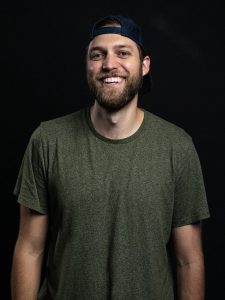 Omar Young, creator of the Netflix series Street Food, is a UCF NSCM graduate. The series focuses on highlighting popular international foods. The show takes the viewer on an adventure of different cuisines and cultures.

Please discuss your journey since you've graduated from UCF.
I graduated from UCF with my capstone being a short documentary film called Takes Four Years to Grow Coffee. This film ended up playing at two Oscar qualifying festivals, the Florida Film Festival and the Hot Springs Documentary film festival both in their 30th year of programming.
During my senior year of college I started my own production company called Creative Film Vision here in Orlando. With it I have worked with a great variety of clients.
I have worked on short documentaries for Microsoft featuring the social impact of their technology. I have directed a short documentary for the Black Lives Matter Survival fund and episodic television for Amazon Prime. As well as editing for CVS, Universal Studios, national parades, etc.
I have also participated in our local Fusion Fest on the MYgration contest, highlighting members of our community and their migration stories to Orlando, FL. I won both the Grand Jury and the audience award with my short film The Art of Patrick Noze in 2019.
Recently I have made my debut onto streaming platforms with Street Food on Netflix and an unreleased documentary series on Disney+.

What inspired you to take this opportunity?
I have been a big fan of Street Food since I saw the first season. In particular, the Japan episode featuring Toyo in Osaka. I immediately fell in love with the show! Toyo believes that is better to be the head of a chicken than the tail of a bull, and that stuck with me. Every decision I ever made ever since, has been with that in mind.
I never took a documentary class while at UCF. I thought myself documentary by watching Toyo's episode dozens of times and breaking down its structure onto a notebook. With my own reverse engineered structure, I condensed it to something that could work in 10 minutes, Takes Four Years to Grow Coffee is the result of that.
I then went onto IMDB and purchased their PRO membership. With this I could see the contact information of everyone that had worked on Street Food and sent a bunch of cold emails. Only one person got back to me, the editor of the Japan episode. She was incredibly encouraging and gave a lot of valuable feedback. After I made the changes, I ran across her again when we both had films playing at the Florida Film Festival. Netflix called a month later.

What was your inspiration for Street Food?
I worked on Street Food across all episodes as an Associate Editor. This involved doing editing and story producing wherever I was needed. Sometimes juggling multiple scenes in many episodes all at once. Working on Street Food was an incredible experience and it made me truly happy. It was a dream come true! One that I thought it would take me my entire career to accomplish, and that was made a reality in the same year that I graduated.

Please share what you've reflected on while creating Street Food. What challenges/obstacles did you overcome? What was your favorite part about the process?
Working on Street Food was like someone had let me take a peek behind the curtain of this new golden era of documentary filmmaking. I could see how it all worked and it opened my eyes to the endless possibilities currently available, even for someone like me who emigrated to this country at 16 years old and doesn't have connections or money.
I'm sure there were many challenges, the whole show was AVID based, done remotely and on a very fast schedule. But they were nothing compared to the happiness it brought me. I had a silly smile on my face every single day.

Can you tell us about your upcoming projects?
Right now I have left Orlando and I'm traveling the world depending on where my projects take me. I'm expanding Takes Four Years to Grow Coffee into a series and working on a couple of other independent documentaries. Last year Takes Four Years played two festivals surrounded by films that had played Sundance and Cannes. I want to get there next, that's why I am currently in Peru doing preproduction for a short documentary on Nikkei food, born out of the marriage of Peruvian and Japanese cuisine. I'm also here working on our second episode of Takes Four Years to Grow Coffee.
In the coming months I will be traveling to Korea, Japan, Jordan, Kenya and many others looking for the next story.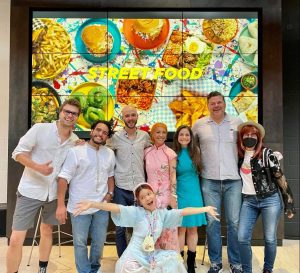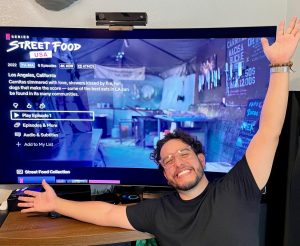 By Majdulina Hamed.
Published to Nicholson News on September 2nd, 2022.
If you have any news, accomplishments or highlights about your work or life, please be sure to share them with us, by emailing us at NicholsonNews@ucf.edu.