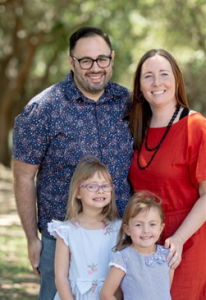 Jonathan Gautier and Jessica (Wigert) met each other at the University of Central Florida (UCF), where he received his bachelor's degree in digital media and then a master's degree in music, and she earned a Bachelor of Science in elementary education with a minor in music.
They both say UCF's collaborative and welcoming environment helped set them up for their future career.
After graduating, both found their way into teaching music, but when their first child was born, Gautier decided it was time to quit teaching and open a studio full-time.
"For those first three or four months, [we didn't book] a single client," Gautier said. "I thought, 'Did I just make the worst decision of my life? I have a newborn and I have no money.'"
When the coronavirus pandemic started, they were nervous whether their studio would survive. The pandemic was proving to last, and they were looking into virtual performances, but didn't find much opportunity there.
They slowly started taking steps to ensure that they had a way to safely bring musicians back into the booth.
When a violinist reached out to the couple about booking some time to work on material in Gautier's recording studio, they were more than happy to take on the much-needed work.
"Sometimes, he would ask to come record in off-hours for a project and needed a quick turnaround," Gautier said. "The projects never had any descriptions. We never knew what they were for."
So, imagine their surprise when months later, they woke up to a text message explaining that their studio, Sound House Studios, was credited as an engineer for the song "August" on Taylor Swift's surprise album "Folklore."
"We've gotten an album credit before, but never with a big mainstream artist," said Gautier. "It's been pretty surreal. We're getting noticed a lot more now. UCF made me into a professional. It gave me the keys [and] the steps to become that professional that can put a stamp on this world."
The full story was originally published on UCF Today and written by Steven Risko. Edited and published to Nicholson News on March 1, 2021 by Iulia Popescu.
If you have any news, accomplishments or highlights about your work or life, please be sure to share them with us, by emailing us at nicholsonews@ucf.edu.