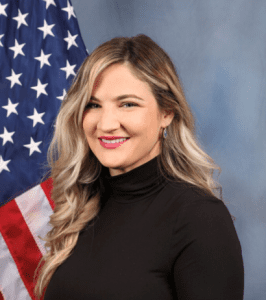 "Journalism is the first rough draft of history." This was said by Philip L. Graham, the co-owner of The Washington Post. This is especially relevant to Ashley Papagni, a former adjunct professor at Valencia College in journalism and a doctoral candidate in the Nicholson school of Communication, who's drafting the next chapter of her story. Papagni shares her narrative about what interested her in the communication and media field as well as how she became the new Public Information Officer (PIO) at the City of Orlando.
The field of communication and media has been important to Papagni since a young age. Being the oldest of four, she took on being a role model for her siblings; she relates communication and media the same way by explaining that communication is the most powerful tool one can use to make real change and progress. "They [journalists] are looking out for the public in order to keep those with decision making power honest. It's important to give a voice to those who may not know who to speak to to see real action." Born in Brooklyn, New York and raised near Ft. Lauderdale, Florida, Papagni moved to Orlando in 2004 to pursue her bachelor's degree in Radio/Television as well as a minor in Marketing and Pre-Law at the University of Central Florida. Currently, she is working on her doctorate degree in Crisis and Risk Communications in which she states that "I knew I would get my Doctorate at some point in my life, I am just glad a program exists where I can use this research to help communicate to communities effectively when there is much uncertainty during a crisis situation." Papagni also mentions that being involved in the Nicholson School of Communication and Media has further motivated her interests in media relations. "I believe that [the] degree, coupled with my Pentagon experience secured an associate producer position in the news. I am glad to be back pursuing a Ph.D. with UCF in a similar communication capacity…just because one project is complete, the process keeps going." The saying must be true then, once a Knight, always a Knight.
Before joining the City of Orlando, Papagni has held several positions working in media and public affairs. This includes the Department of Defense in Washington D.C., WESH-TV Channel 2 in Orlando and at NBC 2/ABC-7 in Fort Myers. In D.C., Papagni worked for the Assistant Secretary of Defense in the Press Office, responding to many emails and phone inquiries as well as working on press releases, bulletins and editing contracts. She states that "the Pentagon News also resides there so it was exciting getting to interact with reporters and what stories they were working on." Furthermore, Papagni worked with WESH-TV Channel 2 in Orlando and at NBC 2/ABC-7 as a news producer which meant that she created content such as digital graphics and director notes for the anchors to read. She explains that "keeping up with current events was essential as things can change at a moment's notice, especially with breaking news. It gave me the skills to work under intense pressure and have the ability to fact-check many details quickly."
In addition to her work in the newsrooms, Papagni has served as the Orlando Fire Department's (OFD) Public Information Officer since 2015. In this role, she has served as the spokesperson for OFD and managed their communication channels, both internal and external. Over the course of seven years, there have been several things that she has contributed to the OFD, but she is most proud of the team she has built, the strategies put in place to showcase the OFD's outreach and programs and investments in state-of-the-art tools, technology and training. Five accomplishments she achieved during her time with OFD include: earning two back-to-back $25,000 grants for their community fire alarm blitz and new carbon monoxide detector programs (including alarms for those with hearing loss); earning $10,000 EMS grants to develop their Stop the Bleed, Community Sharps, Narcan and 4-hour HeartSaver CPR courses with mannequin monitoring devices; she developed crisis and risk communication community messaging for internal and external purposes; lead as fire PIO during on-scene events and scenarios; and expanded the organization's presence by building relationships with their media partners. Papagni also understands that in a crisis, you must be very present, and every situation can be a learning lesson, but being human first is important. "For example, after a fire, getting someone a blanket or a bottle of water. It's the little things in challenging circumstances that people remember. The challenge is always finding time to listen to other people's experiences. We are all busy, but the time you get to truly care for others is the best lesson."
As a Public Information Officer, Papagni recognizes that this role is to help communicate information to the community which, in turn, can empower their residents. "For example, sharing news about free CPR services can create an experience where someone knows how to save another's life. I think that is pretty powerful." In her new position at the City of Orlando, Papagni will serve as the main point of contact for the day-to-day media inquiries and interview requests relating to the City of Orlando. As a PIO, Ashley will also help the City to continue to pitch their programs and policies while efficiently managing their media relations efforts to meet the ever-expanding media market locally, nationally and internationally in print, radio, television and the web. When asked what she looked forward to the most in her new position as a PIO, she responded that community is important and wanted to make sure that the residents have what they need in order to make informed decisions. "On a personal level, it will be very exciting to see how decisions are made through the visionary process. Projects like the Creative Village were all once proposals that are now full-fledged infrastructure. I can't wait to see how ideas evolve into action."
Throughout her time with prior positions, Papagni has learned a lot and has reflected on what has truly stuck with her. She shares that although she did not know much about the fire service, she recognizes that they have helped people on their worst days. "Through this career choice in public safety and now for the city, I've learned one person can truly make a difference. It's important to advocate for what is right, even when it is not popular." As a new mom of twins, balancing life and a career can be challenging, but Papagni acknowledges that it's all about incorporation and that being a PIO is an immersive career that does not end when [you clock out of a shift]. "I always find time to spend with my family and friends, but my phone is always on. I think it's also valuable to invest in yourself through learning. Being a lifetime student is important for self-growth, whether that is through teaching and mentorship or as an apprentice." Through her experience, Papagni sees firsthand how communication can save lives every day by increasing the amount of information people have access to which empowers them to make informed decisions. And that is how she envisions her legacy to be; that she left this place better than she found it and that someone can look at this chapter in her life with a fresh set of eyes and continue writing this draft of excellence.
This article was written by Majdulina Hamed.
Published to Nicholson News on August 1st, 2022.
If you have any news, accomplishments or highlights about your work or life, please be sure to share them with us, by emailing us at nicholsonews@ucf.edu.