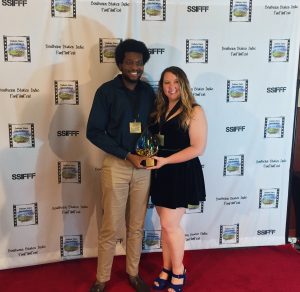 Marching Forward, a new feature documentary film produced by the UCF Burnett Honors College, and  students and faculty, was recently awarded the Atman Award for Diversity in Film recently at the Southern States Indie Fan Film Festival. Student director Oswmer Louis, a 2018 history alumnus and Burnett Honors Scholar, attended the festival and accepted the award with Brittany Todd, a 2018 film alumna and Burnett Honors scholar, who worked as a camera operator on the film. The film was also nominated for Most Talented Student Filmmaker.
Marching Forward is a Civil Rights era account of two dedicated high school band directors—one black, one white—inspired by music to cross color lines in the Deep South and work together for the sake of their students. This courageous cooperation resulted in the experience of a lifetime for Orlando's black and white students at the 1964 New York World's Fair.  The feature-length documentary was born out of UCF Burnett Honors College interdisciplinary seminar class taught in fall 2016 by Robert Cassanello, Ph.D., associate professor of history and Lisa Mills, Ph.D., associate professor of film. Following that class, Louis and Todd continued working with Cassanello and Mills to complete the film.
"We are grateful to Burnett Honors College Dean Dr. Sheila Amin Gutiérrez de Piñeres for her support so we could attend the festival," said Louis, who also spoke on a diversity panel at the event. Todd maintains a web site and Facebook page where more festival screenings will be listed. Watch the trailer here: https://www.marchingforwardfilm.org/.