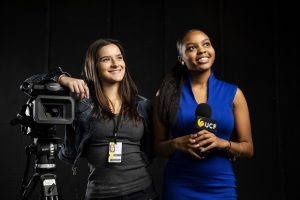 NBCU Academy has selected UCF as one of 15 new partners nationwide in a program that will strengthen how the Nicholson School of Communication and Media supports and prepares students to succeed in the media industry.
Benefits of the partnership include scholarships; resources to help expand students' field reporting and internships; and more opportunities for students to interact with some of the nation's top journalists, including lectures on topics such as newsgathering and storytelling.
Those resources will further strengthen UCF's talent pipeline of students well prepared for careers with media organizations in Central Florida, the state and beyond.
Additionally, the academy will support enhancing the school's equipment and also programming for the school's Hispanic Media Initiative, which was created to meet the needs of the growing Spanish language media industry serving the region's, state's and nation's growing Hispanic population.
UCF is one of 15 institutions, including Ohio State University, the University of Missouri and University of Arizona, that were invited to join the partnership by NBCUniversal Media Group. There are now 45 institutions participating in the program, which began two years ago.
"We are grateful to NBCU Academy for helping all of our students unleash their potential and further develop the skills they need to thrive in the media industry," says Robert Littlefield, director of the Nicholson School. "The many media organizations throughout Central Florida and our state who hire our students and graduates also will benefit from this partnership."
About 600 students are enrolled in journalism-related programs at the Nicholson School of Communication and Media. The school offers majors in journalism and media production and management, as well as minors in journalism studies, magazine journalism and mass media. Students also can enroll in an undergraduate certificate program focused on Hispanic/Latino media.
The mission of the Nicholson School's Hispanic Media Initiative is to provide exposure and education for students to learn about the importance of covering news stories that reflect all communities, support future generations of leaders in the media industry, and highlight and prioritize the opportunity for more diverse representation in media management. UCF is a federally designated Hispanic Serving Institution, with 28% of students identifying as Hispanic.
"The Hispanic Media Initiative has enabled hundreds of students to grow their skills and gain invaluable experience in delivering the news to one of the fastest-growing populations in the United States," said Katie Coronado, who founded the program 11 years ago and serves as an associate instructor. "The generous support of NBCU Academy will help the initiative grow and continue to serve as a pipeline to the media industry for Spanish-speaking journalists."
NBCU Academy has elevated the next generation of journalists, providing students from underrepresented communities a pipeline into newsrooms across media and technology. NBCU Academy's pioneering Embed Program creates roles for recent graduates from partner schools and institutions with diverse student populations. In two years, NBCU Academy has assigned 11 Embeds full-time, two-year job assignments across the News Group's on-air and Digital platforms, Marketing, Global Talent Development & Inclusion, Data Sciences, and Diversity, Equity & Inclusion.
NBCU Academy reflects Comcast NBCUniversal and NBCU News Group's commitment to diversity, equity and inclusion. This initiative provides tools, resources, and platforms for underrepresented voices in partnership with Historically Black Colleges and Universities, Hispanic-Serving Institutions, STEM programs, and colleges with significant Latino, Asian American and Pacific Islander, Black, indigenous and tribal populations.
"This expansion is a direct result of the success we've had with our partners," says Yvette Miley, senior vice president of Diversity, Equity & Inclusion for NBCU News Group. "We are proud to build off the momentum of the past two years and continue the program's impact as we grow."
By UCF Communications. Original article can be found here.
Published to Nicholson News on March 2nd, 2023.
If you have any news, accomplishments or highlights about your work or life, please be sure to share them with us, by emailing us at NicholsonNews@ucf.edu.