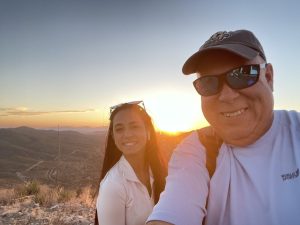 Nicholson School senior journalism instructor Rick Brunson was standing alone in a supply room for babies at Border Servant Corps, a faith-based facility that serves refugees and asylum seekers in Las Cruces, New Mexico, near the U.S./Mexico border – when he lost it.
Seeing the rows of bins of tiny baby bottles, diapers and little toddler shoes that would feed, cover and shod children who had accompanied their parents on the treacherous 2,400-mile journey to get to this spot of the Promised Land – from Honduras or Guatemala or even beyond from Venezuela – was all too much. He wept. Quietly. Openly. Out of sight of his colleagues, who had gone on to the next part of the tour of the facility.
"It was part sadness," Brunson says. "It was part gratitude in realizing what the room represented — that there are people who care and see migrants as human beings and not just pawns in our politics. But mainly it was the crushing feeling, like a clove of garlic in a press, of being humbled by the reality that by sheer luck of birth I live in a country that mothers and fathers – people just like me – risk their lives to bring their children to in the hope of a better life. We take so much for granted."
Brunson and UCF journalism senior Amy Diaz were there as part of a contingent of UCF students, faculty and videographers that traveled to El Paso, Texas, and the surrounding region during the week of June 11-17. They were there to learn, study, serve and research about life in the U.S./Mexico borderland where immigration is not just an issue – it defines, shapes and informs the identities of communities there. Specifically, the grant-funded trip was sponsored by UCF's Pegasus Innovation Lab's Digital Innovation Initiative, a multidisciplinary effort to use new technologies – such as 360 cameras — to create more immersive online lessons to engage students, enrich their learning experience and ensure their academic success.
Brunson and Diaz were tasked with being the journalists on the trip, working with an experienced, award-winning film crew from the Center for Distributed Learning to interview migrants, aid workers, faith leaders, immigration lawyers, journalists, university professors, local government officials and federal Border Patrol agents to shed light on the current situation at the southern border that people may not see on the news. In addition to capturing video for lessons in UCF online courses, the team was shooting the fourth phase of the ongoing, Emmy Award-winning documentary series, "A Break for Impact'' that features the work of UCF Legal Studies professor Dr. Irene Pons and her students.
Brunson was one of three UCF faculty members on the trip, along with Pons, who was leader and director of the excursion, and Professor Iryna Malendevych of the Department of Criminal Justice, who researches in the area of human trafficking. Diaz was one of six students on the trip – all representing sociology, legal studies, criminal justice and other academic programs. The students all spoke Spanish and served in key roles as interpreters.
For Diaz, as with the other students, the time spent in the borderland was impactful.
"The trip to El Paso opened my eyes to the reality of not only those who live on the border,'' Diaz said, "but those who take a long journey to call this country home. I learned that not everything is what it seems from the outside and that the power of community can overcome any and all obstacles."
Photos courtesy of Rick Brunson and Amy Diaz.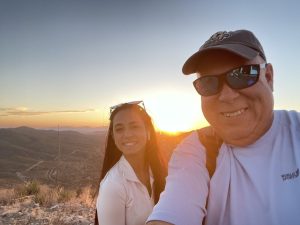 Nicholson School senior journalism instructor Rick Brunson and journalism major and undergraduate teaching assistant Amy Diaz served as journalists on a recent UCF Pegasus Innovation Lab-sponsored trip to the U.S./Mexico borderland in West Texas and New Mexico.
---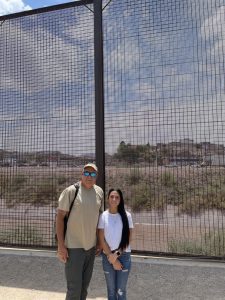 Senior journalism instructor Rick Brunson and journalism major and undergraduate teaching assistant Amy Diaz stand on the U.S. side of the 30-foot border fence between El Paso, Texas, and Ciudad Juárez, Mexico. Just below the fence is the Rio Grande River, which separates the two countries and rushes by at about 35 mph. They interviewed Border Patrol agents there about the drop in the number of crossings since the end of Title 42 on May 11.
---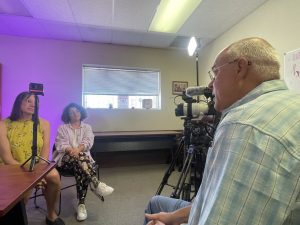 Rick Brunson interviews Marisa Limón Garza, left, and Jennifer Babaie of Las Americas, a nonprofit organization based in El Paso, Texas, that provides free and low-cost legal services to immigrants and refugees in West Texas and New Mexico.
---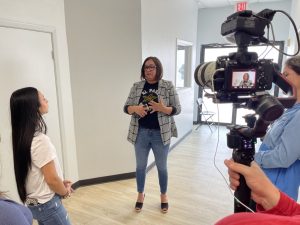 Amy Diaz interviews Irene Valenzuela, executive director of El Paso County government's Office of New Americans, which processes and resettles migrants at its new facility in El Paso.
By Rick Brunson.
Published to Nicholson News on July 7th, 2023.
If you have any news, accomplishments or highlights about your work or life, please be sure to share them with us, by emailing us at NicholsonNews@ucf.edu.