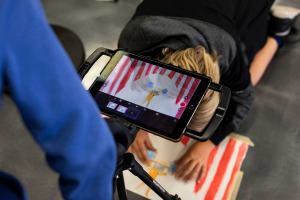 Thanks to an intensive weeklong storytelling and animation summer camp, 20 fourth and fifth graders had the chance to create their own animated films and spark a love of creation that could make future animators out of them.
The camp hosted two weeklong sessions at UCF Downtown's Communication and Media Building where graduate students from UCF's emerging media degree program served as mentors to the children and helped run the camp.
The weeklong camp was made possible by a partnership between UCF and Page 15 along with a $100,000 grant from Walt Disney World Resort.
"These camps give [the children] a really unique opportunity to explore and stretch their creativity that they wouldn't otherwise have in school," says Julia Young, founder and executive director of the nonprofit Urban Think Foundation, whose Page 15 program provides educational and literary arts programming for local kids. "This partnership with UCF has been huge for us. To be able to expose these kids to college-level equipment and instructors in a space like this downtown campus, it really helps establish an atmosphere and environment that the kids get excited about and fosters their creativity."
Stella Sung, director of UCF CREATE and a Pegasus Professor, says all of the materials used in the camp were of the same quality that UCF students and industry professionals use daily.
The final animations were of stop-motion circus-themed shorts, such as this one.
"They were small, short little pieces, but what folks don't always understand is even five to 10 seconds of animation is a lot of work because everything is made," Sung says. "Every movement, every color, every line is made by somebody. Not only did the kids come up with the characters, but they found things they like and things they wanted to see or be or experience or imagine. I think these are the kinds of skills that translate into larger life skills."
Dana Barnes '16, a UCF graduate student whose focus is in animation and visual effects, was tapped to be a mentor for the after-school program. He had served as a teaching assistant at UCF but says he wasn't sure what to expect in working with children.
"Believe it or not, they understood the animation fundamentals better than some of the college students," he says. "I think when you get older, something happens in your brain — you kind of overthink things, stumble on your thoughts. Kids don't have that problem. They understood it immediately and were able to translate those skills into whatever medium we put in front of them, whether it was a sheet of paper, on the computer or on tablets. It was amazing to see how they took to the process."
UCF also hosts a pre-college two-week intensive camp for high schoolers during the summer, and Sung says she would love a pipeline to form one day that could see a child start in the youth programs, transition to the pre-college level and eventually land at UCF as an animation student.
Although the grant from Disney, which made the summer animation camp possible, was a one-year funding opportunity, Young and Sung are committed to finding more funding sources to not only keep the program going, but to expand it.
To read the full, original story published by UCF Today, click here.
This article was written by Iulia Popescu.