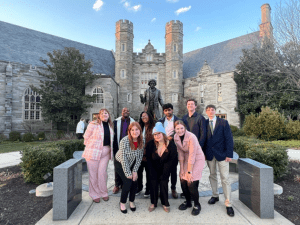 Over spring break 2023, while most students were relaxing and enjoying some time off, the UCF Speech and Debate Team was hard at work. From March 15th – 18th the team was on the road attending the Pi Kappa Delta National Comprehensive Tournament at West Chester University in Pennsylvania.
Pi Kappa Delta is a national honor society dedicated to promoting excellence in speech and debate. For over 100 years students and coaches have ventured to this competition to challenge themselves, and also to bring the art of persuasion alive. UCF has attended PKD since 2017 and continues to prove that the knights are a force to be reckoned with.
"PKD is a unique opportunity. Rather than just a nationals in speech, or just a nationals in debate, we are able to show our strength in all areas of forensics competition. It highlights how we are a well-rounded team that teaches diverse skills," says UCF Director of Forensics Jonathan Conway.
In individual events (Speech) UCF had 3 students advance to elimination rounds (top 24 in the country). In addition, several students received "excellent" awards marking the top 30% in the competition.
Impromptu Speaking
      Niamh Harrop: Quarterfinal
      Madeline Magness: Excellent
      Lexi Wajda: Excellent
Extemporaneous Speaking
      Seth Nimbargi: Quarterfinal
      Darren Roberts: Excellent
      Mekaelia Morgan: Excellent
Editorial Impromptu
      Madeline Magness: Semifinal
In Debate UCF competed in International Public Debate (IPDA) and with 7 competitors 5 advanced to elimination rounds (top 16). While the two still did not have winning records (3-2) for the tournament.
      Madeline Magness: Varsity Octofinal
      Jacob Horvath: Novice Quarterfinal
      Darren Roberts: Varsity Quarterfinal
      Logan Gerhard: Novice National Champion
      Niamh Harrop: Varsity National Champion
At the end of the day nine students traveled to Pennsylvania, and nine UCF Students received awards. A feat rarely matched by a team of significant size. This allowed for UCF to place nationally in debate and combined (speech and debate).
      Debate Tier 1 Sweepstakes 4th Place
      Combined Tier 2 Sweepstakes 2nd Place
      4th Place Overall Debate
      11th Place Overall Combined
Darren Roberts: Senior, biomedical sciences, Captain:
"As a senior, our teams collective success made PKD as good a send off as I could of hoped for. This team has made me a better debater and a better person. PKD showed me, more than any other tournament this year, that the next generation of UCF debaters will create a new golden era for our team."
Logan Gerhard: Freshman, 2023 Novice National Champion:
"This year's PKD tournament was such a memorable experience. It was my first national debate tournament, and my first year on the team. I am very proud of our success this year, and am particularly excited that I became a national debate champion in my first year on the team. Everybody worked very hard for this tournament to reach this level, not just at the tournament itself, but every week practicing and getting better."
By Majdulina Hamed.
Published to Nicholson News on April 3rd, 2023.
If you have any news, accomplishments or highlights about your work or life, please be sure to share them with us, by emailing us at NicholsonNews@ucf.edu.