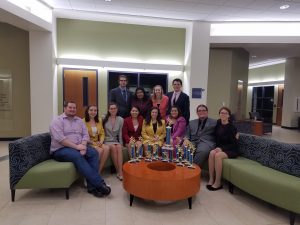 When you plant a seed, you need to water it to see growth. It's been six years since the University of Central Florida Speech Team was founded. Since then, the team has traveled the country, proving its success over its track of existence, leading it to qualify for a National Championship.
The UCF Speech Team offers a high-impact opportunity, with the main goal of helping students become better advocates. The team allows students to identify a topic they're passionate about, and a channel to express their views, opinions, their stories. The current director of the UCF Speech Team is Nicholson School of Communication and Media instructor Jonathan Conway, serving now for five years.
"Watching the UCF Speech Team grow and become what it is now has been a proud journey," said Conway, who took over in 2014 while the team was in its infancy.
In the fall of 2018, the UCF Speech Team traveled far and found success wherever they went. From Jacksonville, Florida to Tuscaloosa, Alabama, and Rome, Georgia, the UCF Speech Team has seen impressive results.
"This year is building into something special," Conway said. "Our first year competitors are placing extremely high and our veterans are winning events and individual sweepstakes."
In seven tournaments, members of the UCF speech team have made the final round ­– top 6 – 43 times. They also finished first place in nine different events and second in 11 more. Individually, team captain Christa Beriswill has placed in individual sweepstakes, top overall performer at the tournament, three times. Beriswill, who's a senior majoring in communication sciences and disorders, has placed second at the University of Southern Mississippi, fourth at Berry College and first at Florida State College at Jacksonville.
"We all put a lot of work into the pieces we perform and trying to continually improve as individuals and a team," Beriswill said. "A lot of the success of the team boils down to the hard work each individual on the team has put into their performances."
The UCF Speech Team has placed at five tournaments. They were tournament champions for the first half of USM and second on day two, finishing in second place overall for the weekend.
They also placed third at Tallahassee Community College, as well as Berry College's "Autumn in the Mountains" tournament. Wrapping up the semester, the UCF competitors took home a tournament championship at Florida State College at Jacksonville's "Star" invitational.
In all, 10 students combined have qualified for 20 events at the national championship tournament in April, 2019. There the UCF speech team seeks to continue its tradition of excellence by improving upon last year's 28th place finish and break into the top 25 for the first time.