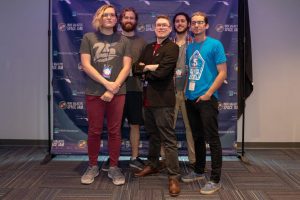 A team of UCF students and alumni won first place in a local game development contest dedicated to space. "Indie Galactic Space Jam" is a collaborative event dedicated to creating games about space travel and exploration. In its fifth year, the competition was held at the Orlando Science Center on Sept. 7-9.
The five-person team included Adam Cohen, current FIEA student; Angel Rodriguez and Austin Pinzon, UCF game design undergrads; and UCF alumnus Trey Atwood. The team created a flight exploration game called "Project Icarus" based on the existing technology of solar sails.
They were awarded $2,500 for their first place finish.
Over 100 developers, students, and industry professionals competed in the event, with approximately 23 teams creating game projects. Employees from NASA and SpaceX were present at the event, giving feedback about ideas and acting as consultants.
Go here to learn more about the game.