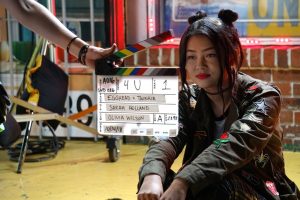 University of Central Florida film students Sarah Holland, Abiesel Baez and Kahlil Collazo won big for their films at the second annual Vibrant Media Productions Film Festival.
Vibrant Media Productions is an Orlando Video Production company focusing on creating customized, client-centric video and photos. The company puts on a short film festival every year to showcase upcoming young talent.
"There are so many creative young students out there who possess incredible talent for visual storytelling,"Alex Cascio '15, Vibrant's Founder and UCF alumnus, said. "Through healthy competition, our film festival hopes to inspire these students to produce amazing content by tapping the unlimited potential inside each of them."
The grand prize was awarded to the short film Egghead & Twinkie, directed by Sarah Holland. This quirky comedy explores the experiences of two young adults after one casually reveals her sexuality.
The third prize was awarded to PLUGGED, written and directed by Abiesel Baez & Kahlil Collazo. In a future not too far from our present, a dating app leads one hesitant man through a mind-altering experience.
Holland also recently won third place at the Annual Palm Beaches Student Showcase of Films, which is the largest statewide film competition for student Florida filmmakers, going 25 years strong. She credits the UCF Film program with her success and ability to see her visions realized.
"It's cool to see the words written come to life in a way that's so much better than you imagined," Holland said.
Holland's advice to student filmmakers is to create as much as possible.
"The advice that I would give to a student filmmaker is to make as many films as you can and to look for others to collaborate who share your same passions," Holland said. "You have to continue producing content because if you continue working on yourself and working on your craft and bringing other people in to work with you, you will develop a sense of what you want your filmmaking to be."
To view an exclusive interview with first-place winner Holland, click here.
It was also a proud moment for founder Cascio, who is a UCF alumnus himself, when he realized two of the three spots in the competition would be awarded to UCF students.
"This was only our second-annual film festival," Cascio said, "but we were absolutely blown away by how the submissions raised the bar this year, especially by the students from UCF, who represent a majority of this year's winning entries."
Building from Vibrant Media Productions' inaugural Film Fest momentum in 2019, this year's competition was open to even more of Florida's universities, resulting in a more diverse and creative submission pool for the judges to consider.
It was essential to the integrity of the competition that each submission was measured by its own merits, so the school from which each submission originated was concealed. This ensured that no alumni-bias could interfere with the judgment process.
The panel of judges was composed of four members of the Vibrant Media Productions staff, who have years of experience with videography and production. Each submission was scored with a 1-5 rating in four distinct categories: directing; editing; story; and sound design.
Cascio explained how there are certain "intangibles," that each entry may present which will leave an even bigger lasting impression – similar to how one may receive extra credit from a professor, in order to stand out amongst the crowd.
"For example," Cascio said, "a piece stands apart from its competition when it manages to draw inspiration from other iconic pictures without being derivative. This shows that the student is able to not only recognize the components of other great works of film, but that they can also use those pieces to creatively construct something new and wholly their own."
Vibrant Media Productions would like to thank the students for making this year's Film Fest an incredible success.
Published May 1, 2020. Written by Iulia Popescu.
If you have any news, accomplishments or highlights about your work or life, please be sure to share them with us, by emailing us at nicholsonews@ucf.edu.