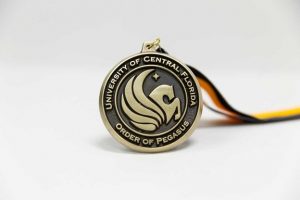 Due to the breadth of accomplishments required for this award, the Order of Pegasus is the highest student award that can be attained at UCF. Student-athlete Julie Poulsen '20 just received one.
She was among 22 other recipients, selected from a pool of 83 nominations. The winners were honored at a ceremony on March 26, 2021.
Poulsen has only been living in the United States since 2017. She was born in Odder, Denmark and dreamt about traveling to the United States to study at UCF.
She felt stagnant and knew it was time to grow with new opportunities. Drawn to UCF for its diversity and inclusiveness as well as its rowing team, she decided to move across seas to attend the university.
"I left my hometown to grow," said Poulsen. "I knew UCF had a rowing team so that was really important, but I knew UCF was a place full of diversity too and felt like I belonged there. People have put me in a box, and I came to UCF and finally felt like I belonged. That was something that spoke to me about UCF – they have open arms."
Poulsen, who is fluent in Danish, German and English, has represented Denmark at the U23 World Rowing Championships. She earned a pair of top five finishes in 2017, and she was the stroke of the Four that finished as seven overall at the 2018 U-23 World Rowing Championships.
Off the water, Poulsen has also excelled academically, earning President's Honor Roll and making the Dean's List.
She graduated with a degree in human communication and a minor in mass communication in December 2020. She is currently a second-degree seeking student majoring in sociology and hopes to go on to receive her master's degree.
Undergraduate students are chosen for Order of Pegasus each year based on their outstanding achievement in the areas of academic achievement, university involvement, leadership and community service.
Last year, she participated in the #LikeAGirl campaign by Always, a brand of feminine hygiene products.
Working alongside her four-time Olympian friend from Denmark, Juliane Elander Rasmussen, they introduced young girls to rowing during the campaign.
Her love of rowing and sports is something she wants to inspire in other girls – #rowlikeagirl.
"I want to inspire others the same way that others have done for me," said Poulsen.
Poulsen's research interests include how social media is affecting females, especially female journalists. She hopes to pursue this research with her master's degree in the future.
Her name and picture will be added alongside the inductees on the wall showcasing past and present Order of Pegasus recipients in the Pegasus Lounge located on the second floor of the Student Union.
Poulsen has accomplished many goals and has high hopes for the future.
Published April 1, 2021. Written by Iulia Popescu.
If you have any news, accomplishments or highlights about your work or life, please be sure to share them with us, by emailing us at nicholsonews@ucf.edu.