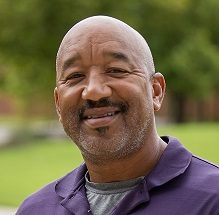 Although the coronavirus vaccine is now available for those aged 65 and older, many remain skeptical.
Rufus Barfield, Ph.D., an associate professor of human communication at the Nicholson School, was interviewed by Spectrum 13 News where he discussed the distrust within the African American community when it comes to medical institutions.
In the interview, he mentions the deceitful Tuskegee study, as well as the treatment of Henrietta Lacks where doctors collected her cervical cells without her consent, using them for research.
These are some of the thoughts that quickly come to mind for many people of color in considering whether or not to receive the COVID-19 vaccine.
The distrust comes from a history of doctors experimenting on enslaved people and the United States' government engaging with the African American community without fully providing context or notifying the community and individuals of what they were engaging in.
According to Barfield, trust can be built, as long as it is imagined and built collaboratively.
"I believe that trust has to be envisioned," Barfield said. "So, if I were speaking to a group of public health and medical officials in this area, I would say that one thing you would need to do is engage the community and there needs to be a collaboration in terms of: what does a trusting relationship look like? And I would say that when you stick a camara in front of some people of colors' face and say, 'Look here, we've had President Obama going to take the shot and maybe some other superstars in the athletic world' – I really think that's a disservice and not considering the intelligence that people have."
Instead of using icons and putting people on the spot, shaming them for either wanting to take the vaccine or not, Barfield explained how it requires more for trust to be built.
"It takes engaging people and empowering them through education," Barfield said. "If public health officials really want to build the trust, then let's learn and see what the actual facts are as it pertains to the vaccine. What is fiction? What is misinformation?"
Barfield also shared what he believes is the most crucial step.
"More importantly, the Public Health Community is going to have to acknowledge the missteps and misdeeds that have been done, and not that anybody can go back and rewrite history, but acknowledge that they were done," Barfield said. "Acknowledge that they were wrong. Acknowledge that these will never happen again under our watch, and that affinity will be involved in all that we do as it pertains to health and the wellness of the community."
Barfield earned a bachelor's degree and a master's degree from Bowie University and a doctoral degree in organizational communication from Howard University. He has taught courses on business communication, conflict management and group dynamics. A past recipient of the Bayer Health Care Communication Grant, Barfield's research interests are mainly focus on health communication.
The full Spectrum 13 News interview can be found here. WFTV 9 also wrote up an article speaking with Barfield on this topic here.
Published March 1, 2021. Written by Iulia Popescu.
If you have any news, accomplishments or highlights about your work or life, please be sure to share them with us, by emailing us at nicholsonews@ucf.edu.