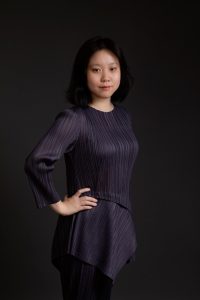 The Nicholson School of Communication and Media would like to welcome visiting scholar, Tang Zheng, a professor in the School of Journalism of Renmin University of China. Dr. Zheng has worked in Caijing Magazine, Beijing Daily, and other news media for more than ten years. Some of her impressive accolades include the Asia News Excellence Award, the China News Award, and the Beijing News Award. She has also published more than twenty papers and presided over one national level project and three provincial level projects. Moreover, the monograph "Micro Communication: Ideas, Discourse and Models" won the Beijing Green Works Award and was used by the Library of Renmin University of China as an exhibition of professional books.
Dr. Zheng shares that her main research interests are news practice, new media, and media integration while also teaching journalism and writing, in-depth reporting, financial news, and other professional courses in Renmin University of China. Her paper "Big Data Based News Content Production Efficiency Evaluation – Taking a Media in Shanghai as an Example" measured the work performance of front-line journalists and editors with a data model. After this paper was published, it was designated by the president of the national party media as an important reference for the media to carry out personnel performance reform. Furthermore, Dr. Zheng participated and presided over academic innovation projects such as the "Oral History of Media Development since the Reform," which was successfully approved.
We are excited to see where Dr. Zheng's research and teaching goes!
By Majdulina Hamed.
Published to Nicholson News on December 1st, 2022.
If you have any news, accomplishments or highlights about your work or life, please be sure to share them with us, by emailing us at NicholsonNews@ucf.edu.