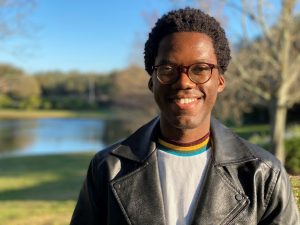 Alumnus Fritz Farrow first began interning with CBS News while he was a student in the summer of 2020. He was then asked to come back in the fall as part of a group of select few interns with CBS News' '60 Minutes.'
After graduating from the University of Central Florida (UCF) in the fall and interning with CBS News twice, Farrow began a new chapter in his life when he was offered a full-time position as a News Associate with the CBS Evening News and Weekend News.
"I never believed that CBS would be so involved in my life, but here we are," said Farrow. "Back in elementary school, I was part of my morning announcements team, which brought me to my local CBS station. Fast forward a few years, and my first internship was there. And in September, I was offered to come back full time at CBS. Right now, I'm working on the Coronavirus team with updates regarding the pandemic, but over the next few weeks, my role should evolve."
As a political science and journalism double major, a student government senator, a student reporter and a former legislative and press intern on Capitol Hill, he has a breadth of skills – skills that CBS saw and revered.
Even his hobbies include watching and reading the news as well as viewing political shows such as "The West Wing."
The New York native just graduated, but while at UCF, he participated in the running of the student government during a pandemic, created caucuses for minority student voices and partook in four internships total – twice with senator Bill Nelson and twice with CBS News.
He also wrote for Nicholson Student Media (NSM), where he published articles such as this one on Haitian voters and this story on two Orlando Amazon employees testing positive for COVID-19, which circulated on NSM thanks to Fritz before it did on any other local news organization.
It wasn't always smooth sailing. While in his junior year, Farrow wasn't offered any internships. Despite the setback, he pushed even harder during his senior year, applying everywhere, and CBS was the first to reach out to him.
Farrow has now been with CBS for six months since his first internship with them – a journey which has only continued flourishing and leading to an increase in opportunities.
His advice? He emphasizes the importance of research when it comes to news.
"As a journalism student doing stories, it really opened my eyes to the importance of being as familiar as possible on the topic you're trying to cover, especially when interviewing important people," Farrow said.
Farrow is looking forward to growing even more within CBS News. He has now relocated to the hub of the political world – Washington D.C. – an international political hotspot, where politics is on everyone's mind and his passions can fully thrive.
Published February 1, 2021. Written by Iulia Popescu.
If you have any news, accomplishments or highlights about your work or life, please be sure to share them with us, by emailing us at nicholsonews@ucf.edu.