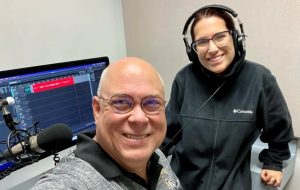 Rooted in a government transparency mission, the Winter Park Sunshine Podcast provides UCF journalism students a wealth of leadership and professional experiences.
One of those students, UCF junior Jackie Cardentey, says serving as the podcast's executive producer gave her real-world experience that was integral in guiding her career's path. "This podcast is all about keeping the citizens of Winter Park informed about all that's going on in their community and making them better acquainted with their government officials," says Cardentey who gained real-world experience in story development, writing, and editing scripts, and oversaw the work of 19 other student journalists. "For me, this experience was invaluable in terms of learning the ins and outs of working on a major broadcast production. It was a lot of hard work, but I learned so much about what it takes to be a journalist."
The experiences that Cardentey gained while working on the podcast was integral to her landing her first internship. This summer, she will be contributing her skills at one of Central Florida's national network affiliates. A native of Miami, Cardentey aspires to be a broadcast journalist, working as a producer in a major U.S. media market. Projects, like this, are key to realizing her professional goals.
Spanning six episodes, the Winter Park Sunshine Podcast features interviews with Winter Park's vice mayor, chief of police and city commission candidates, among others. In addition, there are various organizations featured, such as the Winter Park-based Central Florida Down Syndrome Association, the city's Parks and Recreation department, and the Winter Park Sidewalk Art Festival. The podcast can be found on Spotify, SoundCloud and TuneIn.
The podcast is the latest endeavor of the Winter Park Sunshine Project, an ongoing community-research endeavor within UCF's Nicholson School of Communication and Media. The focal point of the project is a searchable database — established and maintained by UCF student journalists — where users can access wide ranging information about the City of Winter Park. Within the database, users can gain access to commission meeting minutes, campaign contribution records, voter data, employee salary information, and much more.
Through the Winter Park Sunshine Project, Nicholson faculty hope to instill in student reporters — like Cardentey — an appreciation for the responsibility of journalists to hold municipalities and elected officials accountable to the public.
"All of the information we've gathered is publicly accessible, but it might as well be hidden behind closed doors because your average citizen would have no idea where to access it," says Robb Lauzon, who oversees the Winter Park Sunshine Project as the Nicholson School's first postdoctoral scholar. "I want Jackie and every student journalist who contributes to this project to walk away knowing that it is the responsibility of journalists to bring this information to light, keeping Central Florida's citizenry informed and engaged."
This article was originally written by Anthony Moore for UCF Today.
Published to Nicholson News on June 7th, 2022 by Ryan Fox.
If you have any news, accomplishments or highlights about your work or life, please be sure to share them with us, by emailing us at nicholsonews@ucf.edu.