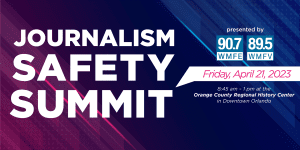 On Friday, April 21st, WMFE hosted a Journalism Safety Summit inside the Orange County Regional History Center. After the tragic loss of Dylan Lyons earlier this year, this summit aimed to address the dangers journalists face in the field on a regular basis.
The event was broken down into three major panels, featuring local experts and educators that had personal experience to bring to the discussion:
Session 1
Trauma-informed Journalism
Naseem Miller discussed trauma-informed journalism, getting the story without causing harm, burn-out and self-care.
Session 2
Safety on the Job
Panelists from the journalism, law enforcement, and academic communities discussed challenging questions about how to handle potentially dangerous reporting situations, as well as harassment, threats and intimidation in virtual and physical spaces.
Session 3
Perceptions of Journalism
Panelists from news, research, and community perspectives discussed public perceptions of journalists and journalism and how trust building on the part of news organizations can enhance journalists' safety and service to the public alike.
Speakers Included:
Nancy Alvarez, Anchor/Reporter, WESH-TV
Tim Brown, UCF Nicholson School of Communication and Media
Rick Brunson, UCF Nicholson School of Communication and Media
Michelle Guido, Director of Strategic Communications, Orange County Sheriff's Office
Naseem Miller, Senior Editor for Health at The Journalist's Resource and former Orlando Sentinel health reporter
Allison McGinley, News Director, WKMG Channel 6
LaToya Dennis, News Director and Managing Editor, WMFE
Brendan Byrne, Space Reporter, WMFE and Host of "Are We There Yet?"
Desiree Stennett, Senior Reporter at the Orlando Sentinel
We extend a big thank you to all of the panelists that gave their time to share their experience with the community.
A big THANK YOU to Jim McCully, our Broadcast Technician Jim McCully for setting up the production studio to help us produce this important spot with WFME's Brendan Byrne and NSCM's Dr. Tim Brown.
WMFE Journalism Safety Summit – YouTube
By Majdulina Hamed.
Published to Nicholson News on May 5th, 2023.
If you have any news, accomplishments or highlights about your work or life, please be sure to share them with us, by emailing us at NicholsonNews@ucf.edu.