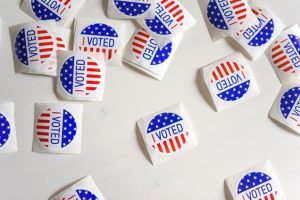 To make the most out of your vote, here are some important things to know about the ballot as well as general voting information and policies.
"If residents of any state should to be voting, it ought to be Florida because we have a history of close elections so every vote matters," said Stephen Masyada, interim executive director for the Lou Frey Institute. "Voting is our biggest opportunity to make a change and this is a significant election no matter which candidate you support. There really is no reason to not make your voice heard, vote, and play a role in selecting the next president and influencing decisions that can have some pretty significant impacts on the state of Florida.
Ways to Vote and Avoid Ballot Mistakes
Make sure you're registered to vote. If you're unsure about your voter registration status, visit CanIVote.org. If you aren't registered to vote, the deadline to do so for the 2020 election has passed, but you should register ASAP to make sure you can participate in future elections.
If you haven't already mailed it, be sure to trade in your mail-in ballot at your polling location. If you haven't yet mailed your mail-in ballot, it's too late to mail it. Bring your mail-in ballot to an early voting site to exchange it and vote in person instead.
Use a black pen, completely fill in bubbles and don't make stray marks. If you're voting in person you'll likely be given an appropriate writing utensil; however, make sure you have a black pen because other ink colors or pencil will not be detected by scanners, Masyada said. While you don't have to complete every question or category on the ballot, you must completely fill in ovals for the ones you want to fill out. Stray marks should be avoided to prevent any issues with counting your vote.
Don't share your ballot on social media. While you may feel inclined to share your vote on social media, don't take a selfie with your ballot in a polling place and post it online because it's illegal and you may face consequences. Instead, you can post pictures with your "I Voted" sticker.
Understanding the Six Amendments on Florida's Ballot This Year
There's a lot more on the ballot than just presidential candidates, so be sure to do your research on other political and government officials, like your local congressional representatives, senator and sheriff, that are up for election. Sites like Vote411.org, which is a nonpartisan tool provided by the Women's League of Voters, provide personalized voting information based on where you live.
There are also six amendments on Florida's ballot this year and to help you make your best decision, here are some summaries of each one.
Amendment 1
The state Constitution currently states "every citizen of the United States who is at least eighteen years of age and who is a permanent resident of the state, if registered as provided by law, shall be an elector of the county where registered."
Amendment 1 would change from the word "every" to "only".
Amendment 2
The current minimum wage in Florida is $8.56 an hour to $10 in September 2021 and then the wage would increase it by $1 per year after that until it reaches $15 an hour in 2026. In 2027, the minimum wage would revert back to increasing annually by the rate of inflation, which is already in the state constitution.
Amendment 3
Currently in Florida, registered Republicans vote in their primary and registered Democrats vote in theirs, while registered voters with no political party affiliation can't vote in either.
"Speaking civics wise, Amendment 3 is one people should really pay attention to because it essentially eliminates closed primaries in the state," Masyada says. "It would open the primaries up and potentially two Republicans or two Democrats can get the nominations [in the general elections]."
Amendment 4
Amendment 4 is another one that Masyada says is especially important from a civics perspective.
"Amendment 4 would change the constitutional amendment process in the state significantly," Masyada says. "Right now, in order for an amendment to pass it has to reach a 60 percent approval from all voters in the state during one election. This amendment means future amendments would have to pass with 60 percent through two elections – which essentially is double the effort."
Amendment 5
If passed, Amendment 5 would extend the period for which people can transfer "Save Our Home" benefits from two years to three.
Amendment 6
This amendment would allow a deceased veteran's homestead property tax discount to transfer over to their surviving spouse. If the spouse sells the property and moves into a new home, they would be eligible for a discount that does not exceed the previous one. However, if they remarry, they would no longer be eligible.
Have you voted? November 3 is the last day to vote!
To find out more about various election events and programs happening across campus as well, check out this article.
Originally published by Nicole Dudenhoefer '17 in UCF Today.
Edited and published by Iulia Popescu on November 2, 2020 for Nicholson News.
If you have any news, accomplishments or highlights about your work or life, please be sure to share them with us, by emailing us at nicholsonews@ucf.edu.