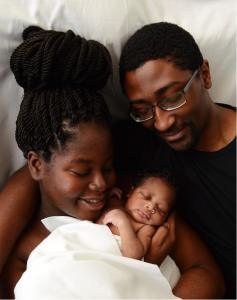 On March 1st, 2019, the world changed forever for the Oxleys. Eve-Lyndssa Oxley, academic advisor, and her husband Chris Oxley, had their baby at 10:26 a.m. on the first of March. Baby Mercer Philemon Oxley was a healthy 7lbs 2oz.
"We were over the moon and overjoyed when we first heard him and laid eyes on him," Eve-Lyndssa Oxley commented.
Eve-Lyndssa Oxley began working for NSCM in August 2013 as a peer mentor, where she assisted students with professional advice.
Due to her commitment and productivity, Eve-Lyndssa Oxley was given the opportunity to work in the Nicholson Academic Student Services Center.
"Eve met her husband, Chris, while working in the NSCM advising center," Rebecca Morales, one of Eve-Lyndssa Oxley's co-workers and friends, said. "It has been such a joy to see them grow in their love for each other and welcome beautiful baby Mercer. We are so happy for their new family!"
Eve-Lyndssa Oxley graduated from UCF with her bachelor's of science in public administration and nonprofit management certificate on May 7, 2015. During her time as an undergraduate, she was secretary of the emergency management student association at UCF and a member of various student organizations.
Last year, Eve-Lyndssa Oxley received a College of Sciences USPS Recognition Award for her exceptional work with staff, faculty and students after having only worked in the NSCM for a mere five years, highlighted in a previous article here. She is currently on maternity leave.
This article was written by Iulia Popescu.