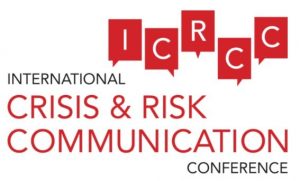 The International Risk and Crisis Communication Conference (ICRCC) is occurring on March 8 – March 10, 2021. The ICRCC has had the same mission 11 years in: to bridge the gap between researchers and those in the field, allowing them a forum to exchange ideas, network and advance their respective fields and disciplines.
As always, saving lives through effective communication tactics is the focus of the conference. In that vein, to ensure the safety of attendees this year, the conference will be held virtually rather than in person.
The ICRCC features presentations, workshops and panel discussions on strategic crisis communication issues, case studies, best practices and emerging trends, presented by a unique combined lineup of top practitioner, on-the-ground professionals and prominent academics from around the world.
Conference co-host, Deanna Sellnow, Ph.D., explains that the conference "creates a space for intellectual exchange among international expert researchers and practitioners focused specifically on effective communication in risk situations and crisis events."
Some of the topics addressed in the conference are also featured in the Journal of International Crisis and Risk Communication Research (JICRCR) which showcases the current research of crisis and risk communication.
JICRCR is the first scholarly journal of its kind; it is dedicated to human and mediated communication issues associated with crises, risks and emergencies around the world.
Professor and director of graduate studies Timothy Sellnow, Ph.D., is the editor-in-chief. Sellnow joined the University of Central Florida in 2015. His research focuses on bioterrorism, pre-crisis planning and strategic communication for risk management and mitigation in organizational and health settings.
"The success of any academic journal depends on the editors and authors who support it. We are fortunate to have recruited editors and authors with international reputations for conducting influential risk and crisis communication research around the globe," said Timothy Sellnow.
Timothy Sellnow has received millions of dollars in funding to support his research. He has published numerous refereed journal articles on risk and crisis communication and has co-authored five books on risk and crisis communication.
Alongside his spouse and fellow UCF faculty member and researcher Deanna Sellnow, they created the IDEA Model.
IDEA is an acronym which stands for the four essential components in effective instructional risk and crisis communication messages — internalization, distribution, explanation and action. This model was showcased in the inaugural issue of JICRCR in a study focusing on U.S. concerns about the Ebola virus.
Volume 3, Issue 2 of JICRCR is currently out now. The journal features articles from today's experts such as Xianlin Jin from the University of Kentucky who wrote the article "Exploring Crisis Communication and Information Dissemination on Social Media: Social Network Analysis of Hurricane Irma Tweets."
The latest issue even includes an article entitled "The Tensions of Strategic Communication Decision-Making: An Exploratory Examination of Theory and Practice," written by director of the Nicholson School and professor Robert S. Littlefield, Ph.D.
"The TSCD theory is proving to be a useful way to understand how decision-makers process the tensions associated with determining when to respond to a crisis how much and the type of credible information to share, the focus of the message and level of responsibility to accept, and how much empathy to show,"  Littlefield explained. "The need for decision-makers to continually reassess risk or crisis situations to understand how the tensions are shifting is essential in crafting messages that will mitigate or prevent harm."
Littlefield is the author of more than 85 refereed publications and several books, receiving recognition from state, regional and national organizations for his scholarly activity.
Littlefield and the Sellnows, whom together have published many works, will have a new book out in March 2021.
Their new book entitled, "Integrated Marketing Communications in Crisis Contexts: A Culture-Centered Approach," presents a culture-centered model for examining risk and crisis communication within the context of IMC to provide a more robust understanding of myriad cultural variables affecting the perception of risk and crisis messages.
The work also focuses on the means by which these messages are processed by different publics, particularly multicultural and international groups.
JICRCR is a biannual peer-reviewed, open access publication, which means that all content is freely available without charge to the user or institution.
Faculty members, staff members and students are also granted free registration for the upcoming ICRCC conference, where more of the issues and advances in risk and crisis communication will be explored. If interested, please email at icrc@ucf.edu and visit the website here.
Published February 1, 2021. Written by Iulia Popescu.
If you have any news, accomplishments or highlights about your work or life, please be sure to share them with us, by emailing us at nicholsonews@ucf.edu.