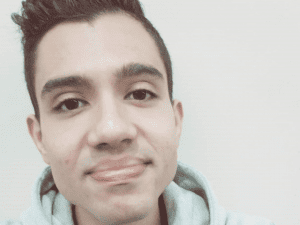 Print/Digital track major Edward Segarra has spent the summer covering breaking news at national news organization, USA Today.
As an intern on the breaking news team, they worked in a fast-paced environment and curated national, trending stories. When the pedestrian bridge collapsed in Washington D.C. on June 23, Segarra was covering it. These breaking stories and more were part of Segarra's thrilling duties.
USA Today also runs a daily COVID-19 blog that provides readers with daily updates regarding COVID-19 news. Segarra and others on the team took turns running the blog, looking for the latest news and creating blog entries throughout the week.
"USA Today is one of the leading news organizations in our current media landscape, and the fact that they saw something in me is very surreal to think about and I am profusely grateful to them for bringing me into their world," said Segarra. "Everyone I worked with at USA Today was so warm, welcoming and collaborative. You can be one of the most talented, highly-skilled people in your field, but if you can't genuinely empathize with those around you or find value in others' perspectives, you're only stunting your own growth."
Segarra's favorite article that they wrote during their internship was on pop culture nostalgia.
"My favorite story from my summer internship was the story I wrote on pop culture nostalgia for Millennials and Gen Z," said Segarra. "The article takes a look at some of the possible societal factors influencing recent comeback trends. This story has a special place in my heart because the subject sits at the intersection of pop culture, entertainment and sociology, which illustrates the brand I'm trying to cultivate for myself as a journalist – writing about pop culture in a nuanced, thought-provoking way."
Segarra was an intern at Watermark Online before going to USA Today. Both experiences have shaped their foundation as a journalist.
"Since Watermark is primarily an LGBTQ+ publication, I had to constantly think about how the stories I wrote would speak to an LGBTQ+ audience," said Segarra. "Through that internship, I also built up my tenacity as a reporter. No matter what bumps in the road you may face along the way, the story must be told. Even though the internship took place during a strange and dark time that was the beginning of the pandemic, getting the opportunity to put myself out there in the news industry gave me hope for the future."
They are now graduating from UCF this semester and have taken classes with professors such as Rick Brunson, who informed his class, with Segarra in it, of this internship opportunity.
Brunson heard about the internship through Christal Hayes, a UCF alumna who works for USA Today. The Nicholson School of Communication and Media has two previous alumni – Christal Hayes '15 and Dani Medina '20 – working at USA Today.
"This is a huge deal for both Edward and our journalism program," said Brunson. "With the success of alums who have succeeded and quickly advanced at the news organization, UCF has gained [USA Today's] attention and respect. The impressive work of students like Edward and Héctor García, who also spent the summer at USA Today, creates opportunities not only for themselves but also other students in our program. They are expanding our reach and reputation. I'm immensely proud of how they represent themselves, our journalism program and their university."
Although the internship ended in August, they are excited to share that they will be interning with USA Today's Life section this fall.
Since entertainment journalism is where their heart is at, Segarra's long-term goal is to work for a national publication, such as Rolling Stone, Entertainment Weekly or New Musical Express as an entertainment news journalist.
Published September 1, 2021. Written by Iulia Popescu.
If you have any news, accomplishments or highlights about your work or life, please be sure to share them with us, by emailing us at nicholsonews@ucf.edu.