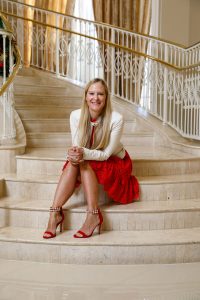 The Nicholson School's advisory board is comprised of a geographically and professionally diverse cross-section of alumni and professionals selected for their ability to provide advice to the director.
Advisory Board member Kimberlee Strong has been on the board for 2 years.
"As a member of the advisory board, it is my job, and the rest of the volunteer board to help create the vision for the future of the Nicholson School," said Strong. "We are working together to improve the lives of students currently attending the Nicholson School and to bring new programs opportunities to these students so that they can be prepared to get a great job when they graduate."
The overlying goal of the board is to assist the administration and faculty in maintaining and enhancing the quality and excellence of the school in its educational and research missions. Membership is only by invitation of the director of the school.
"Kim has demonstrated excellent leadership as chairperson of the school's Advisory Board and I am most thankful for her and her colleagues' dedication to their alma mater," said Nicholson School director Robert S. Littlefield, Ph.D. "Their feedback helps shape the future of the school, all while they serve as superb ambassadors for the school. I am so appreciative of Kim's leadership."
Strong attended UCF on a golf scholarship. The Pennsylvania native moved to Orlando along with her family so that she could have the opportunity to attend the university and play golf for UCF.
As the first person in her family to attend college, she was nervous but excited. She graduated with a bachelor's degree in journalism with a specialization in public relations and advertising.
In 2006, she was honored with an induction into the NSCM Hall of Fame. Nicholson's Hall of Fame was created in 2000 to recognize individuals with an admirable record of excellence in their careers and of service or commitment to NSCM.
Previous NSCM Hall of Fame alumni include people like Shark Tank's executive producer, Clay Newbill, and Gloria LeQuang, the latest inductee who has focused her career on advancing the competitive advantage of the region and the companies where she has worked.
Strong was also the chair of the UCF Alumni Association in 2007-2008. Currently, she is the chair of three organizations: The Association of Fundraising Professionals (AFP); Central Florida, Kids House of Seminole County; and the NSCM Advisory Board.
In her work life, Strong is a partner for McKinnon Strong, LLC, a boutique agency that caters to helping companies and not-for-profits improve their bottom lines. Her passion lies within the nonprofit community.
"It's very exciting and very fulfilling to help organizations gain momentum in business, or to see a capital campaign come to fruition and a new building goes up that benefits the community with the money we helped raise," Strong said.
In her spare time, Strong loves to take care of the flowers she has blooming on her back patio, and regularly plays tennis and golf with her husband, Rob. She loves spending time with her husband, who is also a UCF graduate, and her children Xander, Chloe and Camille, as well as her puppy Darth Vader.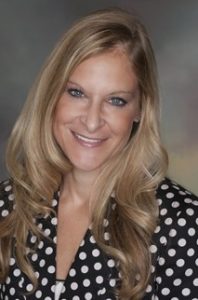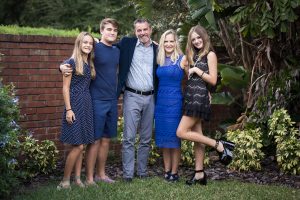 Published December 1, 2020. Written by Iulia Popescu.
If you have any news, accomplishments or highlights about your work or life, please be sure to share them with us, by emailing us at nicholsonews@ucf.edu.