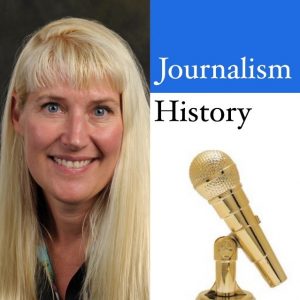 With her extensive knowledge of food journalism, tenured professor Kimberly Voss, Ph.D, has been featured in several podcasts and magazines, such as BBC, Food & Wine magazine and the New York Times Magazine.
In 2020, she was a guest on episode 59 of the Journalism History podcast, where host Teri Finneman spoke to Voss about an article Voss wrote on the significance of food history and the story behind New York Times food writer Jane Nickerson, who put the infamous cheeseburger on the map, among other achievements.
The episode came out in September 2020. Since then, "Episode 59: The History of Food Journalism" is a top-rated episode of the podcast with more than 400 downloads, making Voss part of the Podcast 400 Club.
The episode was featured in the New York Times Cooking newsletter and generated nearly 1,300 transcript reads, the show's most viewed ever.
Following the episode's success, Voss was bestowed the Best Podcast Guest Award from Journalism History on the podcast where she talked about Nickerson.
Nickerson, worked at The Times from 1942 to 1957 as a food journalist, and her efforts were often overshadowed by Craig Claiborne, a food editor of The New York Times. Nickerson was the woman who found and edited many of the recipes that ended up, without credit, in The New York Times CookBook.
Nickerson deserves more recognition for the work she did to help readers understand the business and culture of mid-20th-century food.
In 1947, Nickerson also broke news of the cheeseburger. At first, the cheeseburger was strictly a West Coast phenomenon and the combination of beef with cheese and tomatoes was uncommon.
However, Nickerson helped spread the word about the cheeseburger and later introduced Times reader to the concept of "food writers." She also brought green-goddess dressing to The Times, and steak Diane.
Voss credits Nickerson with laying the foundation for modern food journalism.
"It is wonderful to know that so many people have learned about Jane Nickerson – a significant but often unknown food journalist," Voss said. "These recipes, these stories, Craig Claiborne — they don't exist without Jane Nickerson. Like so many journalists from the women's pages, she was well connected to her readership but overshadowed by the male editor who came after her. I am so appreciative of the podcast, which allows my research to reach a larger and more diverse audience."
The podcast's executive producer, Teri Finneman, offered some words.
"Kim's show and our overall success illustrate the demand there is for great stories of journalism history," Finneman said. "Our podcast lets the world know that journalism history matters and why it matters and gives journalism historians an international platform to share their research."
The Journalism History podcast recently crossed 20,000 downloads and has been listened to in 50 states and 102 countries.
Voss is a tenured professor of journalism in the Nicholson School. Prior to joining UCF, she was a journalist for several years in Milwaukee, where she is from, as well as in Baltimore and Washington, D.C. Her doctorate is from the University of Maryland.
She has been researching soft news, including fashion and food, since 1998. She is the author of several books and was the 2014 winner of the Carol DeMasters Service to Food Journalism Award.
"I wrote about Jane Nickerson in my 2014 book, 'The Food Section' about newspaper food editors," said Voss. "My book won the 2014 AFJ Service to food journalism award. It is always nice to talk about one's research. I get interviewed pretty regularly about my research – in podcasts and traditional media."
Voss has published more than 30 articles about women and journalism history, including those in American Journalism, Journalism History and Journalism and Mass Communication Quarterly. She has published academic articles about Chicago Tribune food editor Ruth Ellen Church and L.A. Times food editor Jeanne Volz as well.
She is also the author of "A Food Journalism Pioneer: The Story behind the First New York Times Food Writer Jane Nickerson and Her Food Section, 1942-1957."
Make sure to check out the podcast episode here.
Published May 1, 2021. Written by Iulia Popescu.
If you have any news, accomplishments or highlights about your work or life, please be sure to share them with us, by emailing us at nicholsonews@ucf.edu.