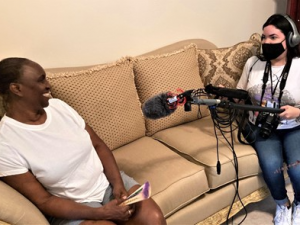 WUCF partnered with the Nicholson School of Communication and Media to explore the legacy of civil-rights activists Harry T. and Harriette V. Moore and their family. The project is now live on WUCF.org.
It all started when Senior Instructor Rick Brunson visited the Harry T. & Harriette V. Moore Cultural Complex, which sits at the end of Freedom Avenue in Mims, to learn more and pay his respects.
Alongside orange trees blossoming and magnolia trees dripping with Spanish moss is the replica of the house that once was home to Harry T. and Harriette V. Moore and their family.
The Moores were educators and activists in Mims, and Harry T. Moore established the first National Association for the Advancement of Colored People (NAACP) chapter in Brevard County in 1934.
Their original house was tragically blown up by white supremacists while the family lay asleep in their beds on a peaceful Christmas night in 1951, which led to the Moores' deaths.
However, the Moores' fight for justice and equality lives on.
Brunson was moved to action after reading about the racism and domestic terrorism that gripped Central Florida in the 1940s and '50s and then walking the grounds of the Harry T. & Harriette V. Moore Cultural Complex.
When he shared his experience on social media, Phil Hoffman, WUCF's executive director, contacted him and suggested the student project.
"WUCF would not be fulfilling its role as Central Florida's Storytellers without partnering with community producers to tell even the most difficult stories," Hoffman said. "During this time of racial reckoning in our country, it is important to tell these stories of people who worked for justice to help educate and engage our audience in this meaningful conversation."
Student journalists in Brunson's RTV 3301 Electronic Journalism I class took on the project and began interviewing people impacted by the Moores.
Julianne Amaya was the project's executive producer, while Aidari Riera Herrera and Alondra McIntosh comprised the reporting team that produced one of the strongest pieces of the project: The Neighbors.
"It has been one of my greatest honors serving as the executive producer for the Moore Project," said Amaya, who is majoring in electronic journalism and minoring in political science. "This project has opened my eyes to see how important it is to fight for justice and equality. The Moores were civil rights pioneers who stood up for so many. They were so brave to fight against injustices on voting rights and the equalization of pay for black teachers."
Broadcast journalism major McIntosh also learned exponentially from this experience.
"This project made me grow and realize the importance of getting peoples' stories out there. Sometimes you'll drive past an area and never ever look twice at it. Little do you know there is a story to be told. I like taking my time and learning about those overlooked. They carry the best, rawest stories!" said McIntosh.
The students are thankful that WUCF and Brunson gave them the opportunity to push themselves as journalists and gain more experience out in the field.
"The students worked really hard, making numerous trips to Brevard County to interview dozens of sources and working hours and hours in our audio labs to get the story right," said Brunson.
Brunson teaches digital, print and broadcast journalism at the Nicholson School of Communication and Media. Before joining the UCF faculty in 2003, he worked for 20 years as a reporter and editor at newspapers throughout Central Florida. He's also the newsroom writing coach for WFTV, Orlando's ABC affiliate.
A proud Knight and longtime Central Florida resident, Brunson graduated from UCF in 1984 with a bachelor's degree in sociology, with a minor in journalism and then earned a master's degree in American history from the University of South Florida in 1999.
Brunson said he is appreciative the project came to fruition.
"It was so gratifying for the students and such a privilege to honor the Moores' legacy and the impact their lives continue to have on Central Florida and beyond," he said.
"The Road to Freedom Avenue: The Legacy of Harry and Harriette Moore," is now live on WUCF.org.
The voices of the people in the stories – the family, the activists, the justice warriors, the flame keepers – all keep the Moores' legacy alive.
To learn even more, watch "Shadows of the Past, Reflections for the Future," a short documentary about the Moores and their legacy, which was directed by UCF Associate Professor Robert Cassanello, Ph.D., and Professor Lisa Mills, Ph.D. Additional details about the documentary can be found here.
Pictured: Student Aidari Riera Herrera interviewing Joan Hines in the living room of her home on Freedom Avenue. Picture credits to Alondra McIntosh.
This story was originally published by Lillian Hernandez Caraballo on UCF Today.
Edited and published April 1, 2021 on Nicholson News by Iulia Popescu.
If you have any news, accomplishments or highlights about your work or life, please be sure to share them with us, by emailing us at nicholsonews@ucf.edu.