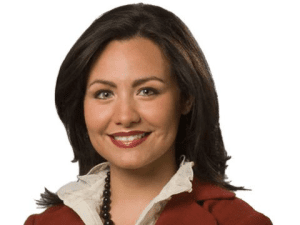 Hispanic Outlook magazine ranked the University of Central Florida (UCF) the No. 5 university in the nation in 2019-20 for conferring bachelor's degrees to Hispanic students.
There are many voices that make up the UCF community. The Nicholson School of Communication and Media's (NSCM) Hispanic Media Initiative provides several outlets and opportunities to serve Hispanic/Latinx students. This makes NSCM stand out nationally and internationally.
Journalists interested in utilizing or practicing both their English and Spanish can take the University's first Spanish-language skills course, Knightly Latino. The course offers students an outlet to cover issues of interest to the Hispanic/Latinx community in English, Spanish and Portuguese.
At the heart of it is Associate Instructor Katidia "Katie" Coronado. Coronado showed an early interest in reporting as she began producing shows for her stuffed animals and Barbie dolls with a tape recorder that her parents gave her around the age of five.
Coronado's first big break was interning with Telemundo, where she began building her media resume. There, she met her mentor Laura Santos, the first Spanish-speaking reporter at the Orlando Sentinel, who at the time was the general manager of Telemundo. Santos inspired Coronado as she was later named VP of news for Telemundo NBC. At the young age of 21, Coronado was producing the Spanish language variety show in Florida called "Communidad 2000."
After several years of working in Spanish language television, Coronado realized that most of her resume was in Spanish, so she challenged herself to do more in English. She quickly learned that she loved doing work in both languages as she wanted to spread knowledge to both English- and Spanish- speakers.
Her experience includes reporting and anchoring for the NBC affiliate I Tampa, (WFLA) where she covered issues of importance to the diverse population – and where her stories made national headlines.
In 2012, she was asked to teach at UCF and since then she's continued to work in the field as a freelance reporter. When asked she admits all of her students are her priority, including those who are new topics of internationalization and diversity.
One of her most impactful accomplishments in academia was to lead a group of student journalists to Cuba to produce a multi-media project in collaboration with students at the University of Cienfuegos.
"Cuba has no freedom of speech or press," said Coronado. "It was a dream come true to see the land where my mother was born, but it was also very difficult. When we were there, we gave lectures and workshops. I made life-long friends who are now like family. Our students and the Cuban students connected. It showed the need for diplomacy and how academia can be that bridge. It brought even more value into what we bring into classrooms."
The work didn't stop there. Although there are restrictions in place, part of what Coronado did after that trip is that she reached out to the US embassy in Cuba, located in Washington at the time, and trained independent journalists and educators virtually in Havana to empower them.
"As educators, we continuously want to make a difference," said Coronado.
Another recent accomplishment is the New York born journalist is now cohosting Global Perspectives, the Central Florida PBS affiliate program about international topics supported by the office of Global Perspectives and International Initiatives and UCF Global led by Associate Vice President Nataly Chandia.
"Our students have access to these stories and information because this partnership with WUCF TV exists as well, it is a blessing to partner with them to produce such important educational content," said Coronado.
Additionally, Coronado has worked closely with The National Association of Hispanic Journalists advising the UCF student chapter. Her work has also led to the creation of the first Hispanic Media Certificate at NSCM.  She also created new courses which led to a ground breaking textbook, LatinX Voices, Hispanics in Media in the U.S." which she co-edited with Kight. There are also several scholarships and grants available thanks to the Nielsen Foundation, NASCAR Unidos, Partners of the Americas among other entities which have shown support to the Hispanic Media Initiative.
Learn more about NSCM's Hispanic Media Certificate here.
Published March 1, 2022. Written by Iulia Popescu.
If you have any news, accomplishments or highlights about your work or life, please be sure to share them with us, by emailing us at nicholsonews@ucf.edu.