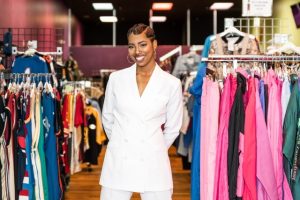 Are you a person who appreciates one-of-a-kind items? In search of stylish but unique clothes to stand out in? Check out the UCF alumni owned Closet Freekz in Waterford Lakes!
Alumna Ashley Bolling '12, owns Closet Freekz, an exclusive boutique driven by style, culture, music and eco-conscious fashion purchases.
In a world where fashion trends seem to become over-saturated and excessively less unique, this exclusive place has distinctive pieces to better reflect one's personality. Many of the clothes are reminiscent of the 80s and 90s vibe.
"What I love about Closet Freekz is all of your friends can shop there and you never have to worry about someone copying your style or showing up with the same thing on as you," Bolling said. "We are also one of the only brands that sells equal categories of both men and women styles and apparel."
Since summer has arrived, Closet Freekz has made sure to stock up with plenty of summer options – from basketball jerseys, swimsuit covers and vintage sunglasses to mini crop tops and high waisted denim shorts.
"And bags!" Bolling added. "Vintage handbags have been all the rage for us. So, I love to keep a good bag and fanny pack collection flowing for summer."
Closet Freekz now has a new flagship location in the Waterford Lakes Town Center.
"We decided based on my background and past experience, that our flagship location in Orlando should rightfully be back where it all started – by UCF!" Bolling said.
Bolling's newest boutique is closer to UCF, the university that she holds near to her heart and graduated from with a bachelor's degree in interpersonal-organizational communication. Since that time, the degree has been updated with new, contemporary curriculum and a new name: Human Communication, B.A.
Bolling recalls being a student-athlete on campus from 2008-2012 and on the weekends, wanting to go shopping but not having options close enough.
"I would have loved to have a Closet Freekz there when I was in school," Bolling said. "I think it's time that the area offered more sustainable options to that community as well as exciting jobs for students in that area. And even though I've had my store in every major market of the city – Downtown, Florida Mall and Orlando Premium Outlets – nothing has felt as right, fitting, or on-time as this one."
Now that her flagship location is in a great spot, she can focus on further plans to expand.
"Before expanding out of the city and state with this brand, it was really important to establish the right location for an Orlando Flagship store so we could mimic those same components in new markets," Bolling said. "The biggest thing in the works is the start of our national expansion. Now that Orlando Closet Freekz in a stable location that I'm happy with, our next location scheduled for Fall is Miami! We have some more expansion plans for 2021 as well so It will be an exciting next 18 months for Closet Freekz."
By the end of the year, Bolling hopes to also have finalized plans for a location in Atlanta, Georgia.
Come to the store or order online! Keep an eye on the store for new creations.
Published July 1, 2020. Written by Iulia Popescu.
If you have any news, accomplishments or highlights about your work or life, please be sure to share them with us, by emailing us at nicholsonews@ucf.edu.