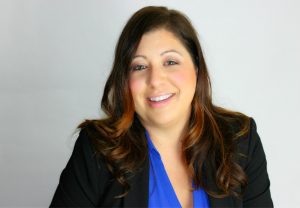 The Nicholson School is spotlighting staff and faculty members each month. The September spotlight has shined upon Jennifer Sandoval, Ph.D.
Along with being an associate professor at the Nicholson School of Communication & Media, Sandoval is also a researcher and a facilitator of equity and inclusion.
Sandoval was initially selected as a Faculty Fellow for Inclusive Excellence last summer, in 2019, and – due to her excellent work – she was just asked to renew for another year this past summer.
"My work on inclusion focuses on creating safe and equitable working and learning environments," said Sandoval. "My scholarship has always been about how identity shows up and impacts our experiences in a variety of contexts. I hope to promote more inclusive practices, a transparent culture and a community of care in NSCM and UCF."
Part of Sandoval's recent preparations for the Fall 2020 semester has included releasing this video as an introduction to inclusive teaching.
In the video, she defines inclusion and what that looks like in the classroom, including in virtual, remote or online environments. Inclusion comes down to a very simple idea that can be difficult to create, which is a sense of belonging.
This instruction is important as students today are demanding more inclusive practices from their teachers and faculty.
Since she was first selected as a Faculty Fellow, UCF has had to face a hurricane closure in the fall and a pandemic closure in the spring as well as an entirely new senior leadership at the university level.
"We have all been working from emergency to emergency," said Sandoval. "My role has focused on re-designing our faculty hiring process and developing resources for more equitable hiring with a goal of ultimately having a faculty that is reflective of our student body and surrounding community."
Sandoval has a Ph.D. in communication and culture from the University of New Mexico and a master's degree in dispute resolution from Pepperdine School of Law.
Her research focuses on the intersection of identity, the body and health. She is interested in the communication and embodiment of marginalized identity in various contexts. She also continues to examine reproductive and sexual health policy and engage in work with interdisciplinary community based-participatory research.
Sandoval brings her experience as a mediator, project manager, trainer and consultant to all the work she does with UCF.
Here's to safe and equitable working and learning environments!
Published September 1, 2020. Written by Iulia Popescu.
If you have any news, accomplishments or highlights about your work or life, please be sure to share them with us, by emailing us at nicholsonews@ucf.edu.