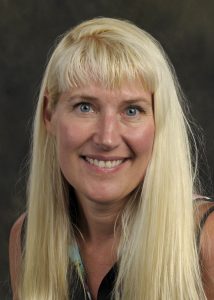 The New York Times (NYT) featured a special episode of the Journalism History podcast, where tenured professor of journalism Kimberly Voss, Ph.D., spoke about NYT food editor Jane Nickerson.
The Journalism History podcast re-examines stories and talks about the hidden events in history that are mainly unknown.
During the episode, host Teri Finneman spoke to Voss about the significance of food history and the story behind NYT food writer Jane Nickerson and her food section from 1942-1957.
The first time Voss wrote about Jane Nickerson was in her 2014 book, "The Food Section: Newspaper Women and the Culinary Community" about newspaper food editors, which won the 2014 AFJ Service to Food Journalism Award.
Voss is a professor of journalism in the Nicholson School. She is the author of several books, and was the 2014 winner of the Carol DeMasters Service to Food Journalism Award for her book and research blog about food journalism history.
Voss has published more than 30 articles about women and journalism history, including those in American Journalism, Journalism History and Journalism and Mass Communication Quarterly. She is also the author of "A Food Journalism Pioneer: The Story behind the First New York Times Food Writer Jane Nickerson and Her Food Section, 1942-1957" in the forthcoming September issue of Journalism History.
Despite its popularity with the public, food journalism hasn't historically received the same level of respect from newsrooms, but food journalism impacts millions of people, and was one of the few areas for women journalists at newspapers for decades.
"I've always been interested in soft news, or what's often known as fashion, food, family and furnishings, and these things were often considered fluff, as if they didn't matter, but clearly they do matter," said Voss in the podcast. "They impact our everyday lives."
The podcast focused on an article Voss wrote about Jane Nickerson, a pioneering food journalist who began her job at The New York Times as food editor during World War II.
To listen to this episode of the Journalism History podcast, click here.
Published November 2, 2020. Written by Iulia Popescu.
If you have any news, accomplishments or highlights about your work or life, please be sure to share them with us, by emailing us at nicholsonews@ucf.edu.