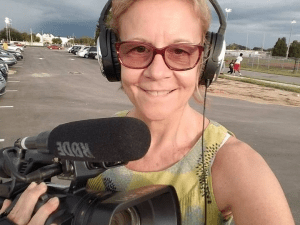 The film program continues to make headlines as three UCF films were recently shared in Orlando Sentinel, the primary newspaper of the Central Florida region.
The films that were featured in Orlando Sentinel, and more, were screened at the Global Peace Film Festival, which was held in a hybrid format this year with both in-person and virtual viewings.
"A Break for Impact," co-directed by film students Christine Kane and Aaron Hosé, follows a University of Central Florida legal studies professor and four of her students who travel during spring break to the Texas-Mexico border to assist with the humanitarian crisis. Along the way, they make shocking discoveries about the treatment of Central American asylum-seekers.
"The Global Peace Film Festival focuses on compassion and making connections between story and action, which is at the core of our mission as well," Kane said in the Orlando Sentinel. "We want to not only bring awareness to the issues presented in our film but also illustrate how people can get involved to help bring about change."
Kristen Locker, a graduate student studying film production, explores how her family developed their beliefs and how those beliefs have shaped their dynamics in "The Neighborhood of Democracy." The Global Peace Film Festival is Locker's first festival appearance as a filmmaker.
Professor and Assistant Director of the Nicholson School's Film and Mass Media program, Lisa Mills, Ph.D., whose documentary "Son of a Sweeper," played at the festival on September 22, was also among those featured by the Orlando Sentinel.
The 30-minute film "Son of a Sweeper," focuses on efforts to enhance education for the children of India's poorest individuals and communities.
"We appreciate this festival's support of local filmmakers very much," said Mills, in the Orlando Sentinel article. "This is a festival that features films that can change hearts and minds about social and environmental issues."
For more information, visit peacefilmfest.org.
Published October 1, 2021. Written by Iulia Popescu. Based on this Orlando Sentinel article, written by Kathleen Christiansen.