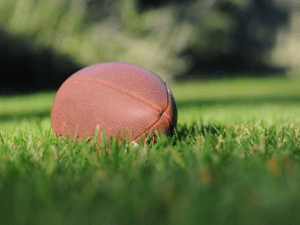 Associate Lecturer Kevin Smith and Instructor and Broadcast Production Specialist II Dylan Yonts executed a remote broadcast for University of Central Florida students at Lake Mary High School's Homecoming game.
Instructor Deanne Schulz offered her thoughts about the success of this event and its real-world opportunities for Nicholson School students.
"It's been more than six months since Kevin first told me he was looking for a way to get his current batch of Capstone students out in the field," said Schulz. "He was determined to get them some hands-on experience after being cooped up for so long in COVID times, where they were learning about production, but not actually doing it."
Smith came up with a plan that would allow UCF students to use their video production skills by shooting a livestream broadcast of a "Friday Night Lights" game, complete with four cameras, instant replay and even coverage of the school's halftime homecoming ceremony.
"It's important to try to give students the experiences that they will find in the industry," said Smith. "Multi-cam field production is a huge part of the market and where many of my students have ended up working. I am quite proud of the practical approach that we have taken towards educating our students. Each shoot and location will present different obstacles and challenges. It's just impossible to duplicate that experience in the classroom."
Many out-of-the area families and alumni appreciated being able to watch this important event from afar with such great quality.
The amount of work Smith and Yonts put into scouting the location, meeting with Seminole County Public School's operations contacts and sifting through red tape was enormous.
A few things which stood out from this project:
It was a fantastic opportunity for the UCF students in Smith's class. Several of them said that this was the kind of experience they had been waiting for their entire college careers. Despite the long hours (and even rain at one point), they were grateful and enthusiastic for everything they learned that day, first-hand.
It helped Lake Mary High School tremendously. The students and faculty at the high school were honored to be the recipients of Smith, Yonts and UCF students' efforts. The faculty members at Lake Mary High who worked on the broadcast also couldn't stop talking about how much they had learned, as a result of the project.
The "Can-Do" attitude that students carried throughout the day. As with any project this size, everything doesn't always go as planned. But under the guidance of solution-oriented Smith and Yonts, it became apparent there wasn't anything that was going to stand in the way of them doing this, successfully, for the students at UCF and Lake Mary High School.
It's an understatement to say that UCF's students and faculty are truly passionate about what they are learning and teaching. Thanks to Smith and Yonts, their students took an important step forward in actualizing their careers.
Published December 1, 2021 by Iulia Popescu.
If you have any news, accomplishments or highlights about your work or life, please be sure to share them with us, by emailing us at nicholsonews@ucf.edu.