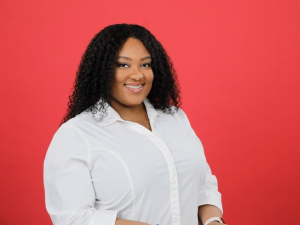 Nicholson School alumna Toni-Ann Burke '17 has been striving for success since graduating with her bachelor's degree in advertising and public relations (Ad/PR).
After meeting the revered former CNN anchor Soledad O'Brien, Burke decided to explore the journalism world before stumbling upon public relations. Since then, she hasn't looked back.
"The Ad/PR program gave me the best of both worlds," Burke said. "I could explore different types of writing and storytelling, meet and interact with new people and because PR is constantly evolving, I knew I'd never be bored."
The first-generation graduate earned her bachelor's degree in Ad/PR with a minor in sociology. As a student, Burke was an active member of the executive boards of the UCF PR Club QUOTES, the National Association of Black Journalists and Delta Sigma Theta Sorority Inc.
"I come from a family of Jamaican immigrants and they've always taught me that the sky is the limit," said Burke. "I watched my mother work hard to provide for her four daughters and she always taught us that education is the key to success and 'if at first you don't succeed – try, try again.' This is what inspired me to pursue my dreams of going off to college and finishing my degree. It wasn't easy and I even had to take time off, but I never gave up."
After graduating, Burke managed a team of technical support specialists at Macmillan Learning and served as public relations and community affairs specialist for CareerSource Central Florida, a workforce development organization with a mission of connecting Central Floridians to sustainable careers.
She then joined Curley & Pynn Public Relations Management – The Strategic Firm® in March 2021, where she was appointed to communications specialist. Burke works on high-tech, economic development and energy accounts, where her duties vary from client to client. Since then, she has been utilizing her diploma to complete a tactical line of work which includes writing news article and press releases, coordinating events, and completing industry research. Burke explains that when the opportunity came around, she was eager to join the Curley & Pynn team.
"They've been a well-respected and highly reputable firm in the Central Florida area for decades," Burke said. "So, when the opportunity presented itself, I quickly took advantage."
In her spare time, Burke enjoys making candles as a hobby. She also loves finding exciting events in Orlando as well as traveling.
After being with Curley & Pynn for a year, she continues to climb the ladder of success. For more information about Curley & Pynn's team of professionals, visit https://thestrategicfirm.com/about/.
Published March 1, 2022. Written by Jacqueline Cardentey. Edited by Iulia Popescu.
If you have any news, accomplishments or highlights about your work or life, please be sure to share them with us, by emailing us at nicholsonews@ucf.edu.