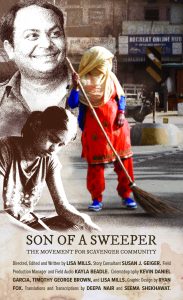 Lisa Mills, Ph.D., has directed or co-directed four feature length documentaries, 12 shorts and has an Emmy. Her films have reached audiences all over the world, and she will now be adding another documentary to that list.
Mills' short documentary "Son of a Sweeper," shot in India with two NSCM graduate students last year premiered at the Fort Lauderdale International Film Festival in November, where it received the Best Short Documentary award.
"Son of a Sweeper," is about efforts to enhance education for the children of India's sweeper communities.  The 30-minute film profiles Vimal Kumar, founder of a non-governmental organization called the Movement for Scavenger Community (MSC).
Kumar is a Dalit, born into the "untouchable" caste, and a self-described "son of a sweeper."  Mills' documentary tells the story of how Kumar formed MSC as a gateway to help other Dalits rise above their caste through higher education.
The film will also be published in the online International Journal of Creative Media Research in early 2021, alongside an article Mills wrote about her nonfiction film methodology entitled "Regrounding in Place, Regrounding in Truth: The Case Study of Son of a Sweeper."
To view the trailer of "Son of a Sweeper," click here.
"Documentary filmmakers are obsessed with the notion of truth, and whether it can ever truly be achieved through cinematic expression," said Mills.  "I borrow from Timothy Creswell's humanistic geography by asserting the space between lens and subject can become a meaningful place that regrounds the realities of subject and filmmaker into what I call a collaborative truth."
Mills said she is grateful for the support her project received from the India Center, the College of Sciences and the Nicholson School of Communication and Media.
Another of Mills' shorts, "Hymns of Three Cities," will screen at the International Video Poetry Film Festival Athens, Greece in 2021.  A film she co-directed with Robert Cassanello, Ph.D., "Filthy Dreamers," has been nominated for a Suncoast Emmy Award in the Historical Documentary category as well.
Published December 1, 2020 for Nicholson News by Iulia Popescu.
If you have any news, accomplishments or highlights about your work or life, please be sure to share them with us, by emailing us at nicholsonews@ucf.edu.