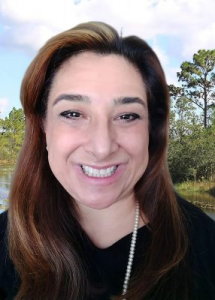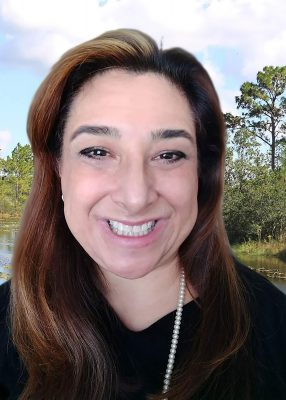 The Virtual UCF Arboretum app has been soaking in the limelight lately, being featured in podcasts and international conferences. Maria C. R. Harrington, Ph.D., is the visionary behind this collaborative effort.
Her groundbreaking work is offering new insights on how to design effective immersive informal learning applications.
The Virtual UCF Arboretum is an immersive augmented reality (AR) and virtual reality (VR) application design, development and evaluation effort that allows users to virtually hike through a model of the real UCF arboretum, that contains more than 600 species of plants and is located on main campus.
The application is a collaboration between The Harrington Lab in the Nicholson School, the UCF Arboretum, the Department of Biology and the Landscape and Natural Resources team at the University of Central Florida.
It took about two years of research, design and development to build The Virtual UCF Arboretum and two years to run studies with human subjects.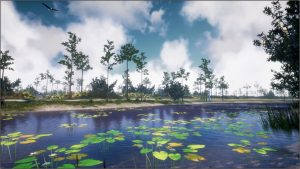 The idea for this project was motivated by Harrington's dissertation work in 2008, "The Virtual Trillium Trail," where she was initially inspired when she went on a field trip with her daughter and witnessed the excitement that the informal learning brought young students.
"What if meaningful experiences could be intentionally and deliberately designed and created through the use of technology?" asked Harrington. "Then, children could be held in a high state of excitement about science, and it could help maintain that awe, wonder and joy of learning."
Few have developed virtual field trips to teach about the natural world by taking advantage of new immersive technologies. Harrington is working to effectively change that.
Her newly published paper on her work with The UCF Virtual Arboretum is titled "Designing a Virtual Arboretum as an Immersive, Multimodal, Interactive, Data Visualization Virtual Field Trip" and it is now available online to read!
Harrington's research focuses on informal learning and how that can aid school efforts to increase overall learning.
The study showcases the importance of high fidelity information and salience on informal learning through the use of photorealistic game engines and immersive hardware technology.
With high fidelity information, photorealism is a byproduct of the high truth value of the data, in both the models of the plants and the terrain environments. The reproduction of the virtual image is as similar to the real one as possible.
The Virtual UCF Arboretum visualizes geographical information system (GIS) data of native flora and fauna, in 100 hectares (247 acres) of Central Florida terrain.
Drone photographs were combined with the GIS data visualization of the virtual environment to increase the accuracy and the information fidelity of the visualization.
The research Harrington has gathered emphasizes the high importance of the accuracy, completeness and assurance of data in the combined use and fusion of GIS, drone images and domain expertise.
Salience also plays a key role in her research. Salience is the quality of being particularly noticeable or important. From an information perspective, it is the differential of signal between the target and the field of view.
There are features in each plant that can be considered salient, which are its defining attributes — a bright red colored petal, a plant with delicious fruit or a flower full of pollen.
"There's a big connection between salience and curiosity," said Harrington. "When you think of your most powerful experiences in life, they were these emotional experiences. These episodic memories stood out from the 'normal' in some prominent, unique or surprising way."
In the app, when an individual perceives something as salient, the user may select the object for more information with a simple click to satisfy a spontaneous emotional reaction to the beauty of the virtual natural world.
Alongside formal learning, informal learning has great potential to create a supplemental learning experience that is curiosity driven. The use of technology additionally opens endless doors of possibilities to enhance that learning acquisition in more natural, continuous and blended ways for learning anytime, anywhere.
The Expert-Learner-User eXperience (ELUX) design process written about in Harrington's study can be generalized and extended to many other domains, particularly science, technology, engineering and mathematics (STEM) topics.
"I think that applying it to different STEM topics and opening up learning in a way that is more experiential, curiosity driven or personalized has an exciting opportunity to engage and motivate students through a web of hidden knowledge," said Harrington. "Think of these apps as a doorway to knowledge. Most knowledge is found in books, but these apps could be one of the many triggers used for independent learning that is primarily informal and independent."
In the future, this technology and design could even be used by space stations to re-create that feeling of Earth's nature to homesick astronauts adrift in space.
Due to the breadth of her research and design, The Virtual UCF Arboretum continues to receive attention – including from international conferences.
The Virtual UCF Arboretum was recently featured in a podcast, The Versatilist, and was also a finalist for the GLAMi 21 Awards in the category of Resources for Scholars and Researchers at the MW21 Muse Web international conference, the largest museum innovation and technology conference in the world with about 800 attendees from more than 40 countries each year.
"I'm really grateful and happy that a community like the Muse Web has recognized this research," said Harrington. "It's truly exciting to have UCF right beside the Smithsonian Institute and the Met. All of my work has been further developed by students, mostly undergraduates, and for them to have produced a product to be able to reach this level of execution, that's very exciting and I'm so proud of my students for being able to help me to be able to do this."
Harrington plans to expand on this research. She hopes to extend the immersive digital media atlas of plants so that she can essentially model ecologies and develop virtual field trips across the United States.
"I would love to extend the immersive digital media atlas of plants," said Harrington. "And once we have all these plants and data, we could go back in time. We can look at the data and records to recreate what the U.S. looked like in the 1600s, for example, or forecast it out to the future and predict what these plants will look like and how they will change."
She also eventually wants to research the experience of beauty and what encapsulates it. What is beauty? Is beauty a form of communication between the natural world and humans? As an information scientist, researcher and artist, these questions have also intrigued her.
Harrington is an assistant professor of digital media at the Nicholson School of Communication and Media and director of The Harrington Lab. She's earned multiple awards and was previously bestowed a $25,000 grant from Epic Grants, the company responsible for the online video game Fortnite, to help expand the Virtual UCF Arboretum.
More information is available on Harrington's website and videos about her work can be found on YouTube. The applications are available for download here.
Published June 1, 2021. Written by Iulia Popescu.
If you have any news, accomplishments or highlights about your work or life, please be sure to share them with us, by emailing us at nicholsonews@ucf.edu.