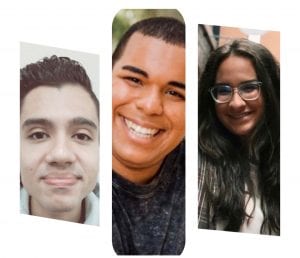 As vaccination rates increase and the Covid-19 pandemic continues to recede in many states across the U.S., more news companies have restarted their internship programs. At least three Nicholson School journalism students recently landed internships at national news organizations for the summer, enlarging the national prominence of the school's program.
Emely Hernandez, Class of 2021 and most recently editor-in-chief of NSM Today, the Nicholson School's student-produced news site, scored a sports reporting internship at The Washington Post. She says she discovered the opportunity on TikTok. Although the internship is remote due to the Covid-19 pandemic, she says the opportunity has allowed her to meet interesting athletes and coaches and to visit different stadiums and cities in the Washington, D.C., area.
Héctor García De León, who graduated from UCF and the Nicholson School in May with a bachelor's degree in journalism, is interning this summer with the Digital Optimization Team for the USA TODAY Network through the Dow Jones News Fund. In addition, he has been accepted into the Emmys/Television Academy Fellowship Program where he will be an Entertainment News Fellow.
Also at USA TODAY this summer is Edward Segarra, a senior UCF journalism student, who is working as a breaking news intern. They have already published their first article.
Published July 1, 2021. Written by guest columnist and Nicholson School Senior Instructor of Journalism, Rick Brunson. Edited by Iulia Popescu.
If you have any news, accomplishments or highlights about your work or life, please be sure to share them with us, by emailing us at nicholsonews@ucf.edu.