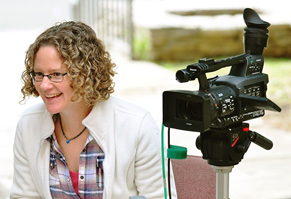 Her films have won awards at festivals around the world. Her interests include social justice activism and LGBTQIA history and culture. Her name is Betsy Kalin, and she is a visiting lecturer for the Nicholson School's Film and Mass Media program, who uses filmmaking as a tool to aid her activism.
Kalin is interested in telling stories about real people who are passionate about their work, community and creating change.
"I am drawn to exploring how people confront issues that stem from social structures or systemic problems in their lives like racism, sexism, anti-immigrant sentiment, homophobia, classism and Islamophobia," said Kalin. "My participants are inspiring to me personally and I believe they can inspire others who watch the documentaries. I think it's crucial to build action campaigns around the issues in the films to create tangible and lasting change."
Kalin earned a bachelor's degree in women's and gender studies at Columbia College at Columbia University and was especially drawn to women's and LGBTQIA history. Her background is also in social impact strategies, outreach and engagement campaigns and educational distribution. She received a Master of Fine Arts in Directing from the University of Miami.
"Filmmaking blends my activism, interest in history and the ability to express my creativity through storytelling," said Kalin. "My films 'Roof,' 'Chained!' and 'Hearts Cracked Open' tell LGBTQIA stories that combine these elements with a quirky sensibility and humor. One of the biggest challenges with making impactful social justice films is to engage audiences and I believe that including humor with heart makes exploring difficult topics more accessible to a broad audience."
Her films "Roof," "Chained!" and "Hearts Cracked Open," have been honored with multiple awards at festivals around the world.
Her documentary "East LA Interchange" was broadcast on Spectrum News 1, highlighted on NBC L.A. and has won ten jury and audience awards to date. "East LA Interchange" is in the collections of over one hundred colleges and universities, being used to teach US history, LatinX studies, urban planning, education and ethnic studies.
"'East LA Interchange' took the longest to make and I really became invested in the participants who are now like family," said Kalin. "So, I think it holds a special place. It premiered at festivals in 2015 and is still having screenings to this day! I'm proud of how relevant the film continues to be and love seeing it continue to spark discussion around multiculturalism, structural racism, gentrification, displacement and community activism."
Kalin founded Itchy Bee Productions in 1997, a full-service production and distribution company. The company's award-winning documentary, fiction and experimental films have screened worldwide. Itchy Bee Productions is committed to creating positive social change through its films and extensive impact campaigns.
Kalin's advice to filmmakers is to practice, be persistent and always have a pitch ready to go.
"The best advice I can give to others is to keep practicing your craft," said Kalin. "Don't be afraid to reach out for an informational interview with someone whom you admire. Do your research, be persistent and do not take no for an answer even if it's disheartening to hear 'no' over and over. Definitely join networking groups and organizations and always have an idea ready to pitch wherever you happen to be."
Kalin strongly believes in the power of storytelling to inspire dialogues, challenge perceptions and educate a wide audience around issues of human rights, peacebuilding and social and environmental justice.
Kalin shared some of her favorite films as well as tv shows and said that Céline Sciamma is her favorite filmmaker.
"Every single one of [Sciamma's] films is amazing and they are all unique and beautifully done," said Kalin. "As far as documentaries, I really love Ramona S. Diaz's and Raoul Peck's films. For television, there's amazing scripted series today that I enjoy, but my guilty pleasure is relaxing with reality TV competition shows. Most of my documentary crew primarily work in reality TV and they are the best filmmakers out there!"
She is also a busy bee, currently in the process of working on several projects.
Kalin is one of the producers on Kenneth Eng's "Birth of an American Museum," a timely documentary that addresses anti-Asian sentiment and the need to protect Asian cultural resources through the story of the Museum of Chinese in America.
"This semester, I was awarded a competitive grant from the City of West Hollywood's Arts Division for my short documentary 'Lesbians in Boystown' about lesbians' political, social and cultural contributions to WeHo," said Kalin. "I'm also continuing development on 'Dreaming in Somali' which follows four Somali-Americans in their daily lives as they confront racism, Islamophobia, sexism and police violence while advocating for their Twin Cities community."
Her most recent documentary, "Vision 2030: Future of SoCal," continues to screen and recently was awarded the Golden Mike Award for Best Television Documentary from the Radio and Television News Association of Southern California. Her Emmy-nominated documentary also premiered on Spectrum News 1 to two million households.
"My goal is to continue my work as a social impact documentary filmmaker and educator," said Kalin.
In the future, she would like to create a course where students make documentaries while working with local nonprofit organizations in order to help address social justice issues in the greater Orlando area.
To learn more about the Film and Mass Media program, click here.
Published June 1, 2021. Written by Iulia Popescu. Photo credits to ©2021 Chris Chew and Itchy Bee Productions.
If you have any news, accomplishments or highlights about your work or life, please be sure to share them with us, by emailing us at nicholsonews@ucf.edu.