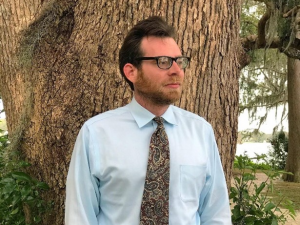 The Nicholson School is spotlighting staff and faculty members every month. The October spotlight has fallen on Kenton Taylor Howard, English extraordinaire and gaming aficionado.
This fall marks the start of Howard's third year of teaching in the Games and Interactive Media (GaIM) program. He is also planning to graduate with his Ph.D. in the Texts and Technology program.
Howard began his college studies at Florida Atlantic University, receiving an M.A. in English, with a focus in science fiction and fantasy literature, in 2012 and a BA in English from Flagler College in 2009.
"Science fiction and fantasy have always been some of my favorite kinds of literature, and I have loved both genres since I was a kid," said Howard. "Sci-fi has been useful to my current work as I started doing research on video games by looking from a sci-fi literature perspective."
Many of the classes Howard teaches in the Games and Interactive Media program involves using game engines and writing code. He says his focus on punctuation has remained strong – if not grown.
"I think I care more about punctuation now than I did when I was teaching English because a misplaced semicolon or parenthesis in your code can break your entire program instead of just looking like a mistake in your sentence," Howard said.
His experience teaching in the Games and Interactive Media program has been exciting and fun as he is teaching about games, which is something he didn't do in his previous teaching positions before he came to UCF.
"My favorite moments have probably been when I've seen a student work hard to overcome a game design problem: it is really rewarding to see students have a programming breakthrough in my office hours or tell me that that something we talked about helped them figure out an issue in their game," Howard said.
As far as his non-academic interests go, while he obviously loves gaming, he also loves riding his bicycle and going to concerts, the latter of which he has really missed over the past few months.
"I have a lot of favorite video games, but I always come back to the 'Fallout' series," said Howard. "'Fallout: New Vegas' is probably my favorite of the bunch, but I'm also a big fan of the older games like 'Fallout 2.'  I like card games and have played 'Magic: The Gathering' off and on for years, though I mostly stick to digital versions of the game now."
Much of his academic work deals with video games. He has presented gaming-related work at a number of academic conferences in the United States and presented at the Digital Games Research Association (DiGRA), a nonprofit international leading academic organization in the field of digital games, which was held in Italy in July 2018. He would like to make more time to work on research.
Howard is also interested in non-digital games and published an article about "Magic: The Gathering" alongside former UCF professor Eric Murnane in Well Played's February 2018 special issue on analog games.
In terms of his academic accomplishments, he recently won an award for a poster presentation and created a short paper alongside Rachel Donley, a former GaIM graduate student. He has also published several journal articles and conference papers about games, including "Fallout 4" and "Hearthstone."
For more information on UCF's Games and Interactive Media program, click here.
Published October 1, 2020. Written by Iulia Popescu.
If you have any news, accomplishments or highlights about your work or life, please be sure to share them with us, by emailing us at nicholsonews@ucf.edu.